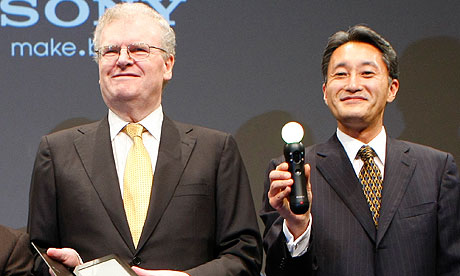 As of April 1st, 2012, long-time Sony employee Kaz Hirai (pictured on the right), who currently leads Sony's consumer electronics division and is widely credited for turning the PlayStation division back towards profitability following the launch of the PlayStation 3, will be stepping up and taking reigns of Sony as the new President and CEO. Kaz will be replacing current and long-time President and CEO Sir Howard Stringer. Stringer, who was originally brought into the company as an outsider who would help transform Sony from its Japanese-centric structure to a more global entity, has struggled in the past few years to keep up with the likes of Apple and Samsung. While many blame Sir Howard Stringer for Sony's losses and fall in many categories, I believe that such an assumption paints a very simplistic view of the last 10 years for Sony.
With the transfer of power happening in less then two months time, Sir Howard Stringer took it upon himself to address the matter and his thoughts on his replacement.
"Three years ago, I started to work with the Board on succession plans, and in February, 2009 we named a new generation of leaders to be my management team. Among them was Kaz Hirai, who had distinguished himself through his work in the PlayStation ® and networked entertainment businesses. Kaz is a globally-focused executive for whom technology and the cloud are familiar territory, content is highly valued, and digital transformation is second nature. I believe his tough-mindedness and leadership skills will be of great benefit to the company and its customers in the months and years ahead. I look forward to helping Kaz in every way I can so that succession leads inevitably to success. It was my honor to recommend him to the Board for the positions of President and CEO, because he is ready to lead, and the time to make this change is now."
Discuss:
Do you think Kaz Hirai will be able to head Sony in a new direction?
[Via Sony]