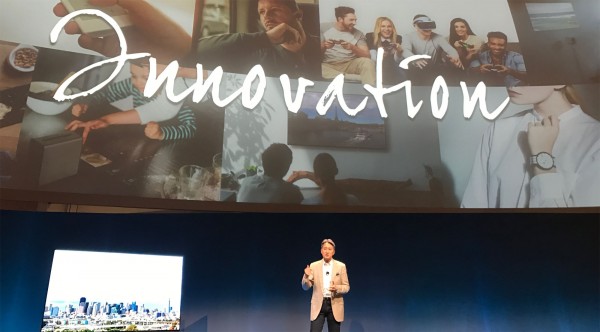 Goldman analysts Masaru Sugiyama and Yusuke Noguchi on Bloomberg:
We expect Sony to achieve its medium-term plan operating profit target for the first time in 10 years and believe it may surpass its record high
Those right there are words that have sadly not been equated with the company for a long time. Perhaps even better than posting a profit is where Sony could be headed, with analysts expecting the company to shift from recovery mode to growth.
analyst Yu Okazaki said investor interest is now shifting to what Sony will do to fuel further growth, as anticipation builds for the company's investor day on May 23.
As for details:
Operating profit in the fiscal year through March 2017 slipped 1.9 percent to 288.7 billion yen, while net income halved to 73.3 billion yen as earthquakes in Kyushu a year ago derailed the company's chip and camera businesses. Revenue fell 6.2 percent to 7.6 trillion yen.

Games were a big boost, with operating profit climbing 53 percent to 135.6 billion yen. Sony is leaning more than ever on its PlayStation business. Operating profits for the division are expected to climb to 170 billion yen, accounting for about a third of total profit, as the company cashes in on the PlayStation 4's later life-cycle stage, typically the most profitable period for consoles. For the first time, sales from online games, downloads and streaming services exceeded that of hardware sales, Sony said. PS4's install base hit 60 million at the end of March, and the company plans to sell 18 million more this fiscal year, slightly lower from the 20 million it sold last year.
Sony's Chief Financial Officer Kenichiro Yoshida:
Having completed a number of re-organizations, we believe that each of our businesses have achieved independence as individual businesses
David Dai, an analyst at Sanford C. Bernstein & Co.:
If you look at near-term, dual-camera sensor usage is ramping up. That's really good for Sony.
With the success of iPhone 7 Plus which utilizes a dual-camera sensor and my other phone makers jumping onboard the trend like LG, barring any outside forces, Sony should see a great boom for the division and their bottom line. On top of that, dual-camera sensors, as you'd expect, have a higher component cost which allow for greater revenue and profits opportunities for Sony.
Once again Yoshida:
Image sensor production will be boosted by about 20 percent to 100,000 wafers a month
Perhaps Masahiko Ishino, an analyst at Tokai Tokyo Securities, says it best:
The question is what story comes after this? That's what's on everyone's mind. Do you have killer hardware? Do you have killer entertainment? The answer is they're lacking something.
And that really is the big question. PlayStation continues to perform far beyond anyone's expectations, but it's consumer electronics that's been hurting Sony. Gaming aside, Sony hasn't had a must-have product in arguably 10 years – perhaps 20, depending on who you ask.
The entertainment arm of Sony has also been struggling as of late but I see that as more of an ebb and flow that all studios face. But electronics is a destiny that Sony can better control and they lost out on the home PC market, television, and now mobile.
Even cameras, a sector in which Sony is doing well, especially in the high-end field, is a small market with compact camera and entry level DSLR sales having nose dived as people shift their photo taking habits to smartphones. As for the PC and TVs, those are two paradigms which are also being disrupted by mobile as we see a generation rise who is satisfied with doing everything on a smaller device. You and I might want a powerful desktop or 70-inch TV screen at home but for many kids today, their phone and tablet are sufficient enough to create and consume on.
VR is clearly an area of interest and presents potential growth for Sony but any gains through PlayStation will be small compared to the great consumer electronic market. At this point, consumer interest has been muted at best. Like the initial waves of smartphones, I'd expect consumer interest to increase as the technology enhances and more native content is created, but it's unclear if VR is here to stay or if it's a temporary technology that might be leap frogged by advances in AR which consumers might prefer. Remember, every time you use a live Snapchat filter, you're using AR.
Bottom line – thanks to PlayStation and chips, Sony is going to be well-positioned going forward. But despite making some class leading televisions and cameras in the top end of the market, those both represent declining markets. If Sony is to have a bright future, it's not going to come from them entering an old market with established players and consumer habits, but by being ready for the next technological shift. The million dollar question of course is, what is that market?