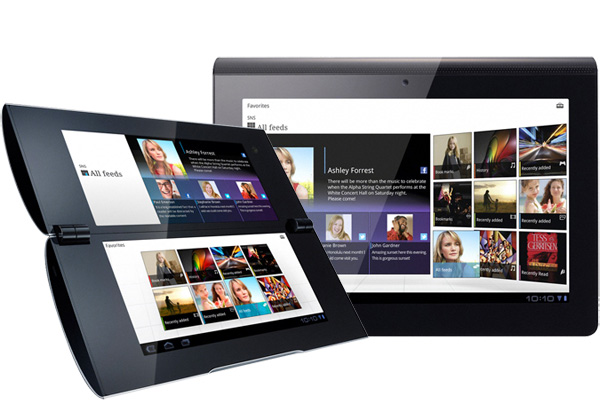 It's been no secret that Sony has been working on a pair of Android tablets. The electronics giant has been quite serious about the use of Android and has shifted their entire Sony Ericsson division to utilize the open-sourced software from Google. With the computer industry beginning to enter what Apple calls the "post PC' era, Sony, like many other computer makers, knew that it had to have some presence in the fast-growing market. In the nearly one and a half years that the iPad has been on the market, Apple has come to sell more than 30 million units while competitors like HP have already dropped out and discontinued their entire tablet strategy and Samsung continues to sell units in the low thousands. As Sony's CEO Sir Howard Stringer put it, "It's not about who makes them first, but who makes them better." This simple line goes a long way to explaining why with the glut of tablets that are available on the market, none have yet to find any real form of success.
With the codenamed Sony S1 tablet officially being called the Sony Tablet S and the codenamed S2 tablet being called the Sony Tablet P, Sony is looking to change the fortune of non-iOS-tablet manufacturers and is hoping to make an impact in the tablet market. Between the two devices, the Tablet S is what many would think of when they imagine a tablet. The most obvious thing about the Tablet S is the 9.4-inch, multitouch display that powers it. Utilizing their in-house expertise, Sony tapped into their TV R&D team to provide TruBlack and Bravia technologies, which provides a 1280 x 800 resolution and "contrast ratios that hold up from any angle and very accurate color reproduction that surpasses the Samsung GalaxyTab 10.1," as Engadget put it. Based on the NVIDIA Terga 2 chipsets, you can expect to find your usual assortment of goodies like:
Bluetooth
Wi-Fi
Wi-Fi + 4G (AT&T only)
16GB and 32GB
Headphone jack
MicroUSB
Front VGA webcam
5 megapixel rear camera
SD card reader
IR Port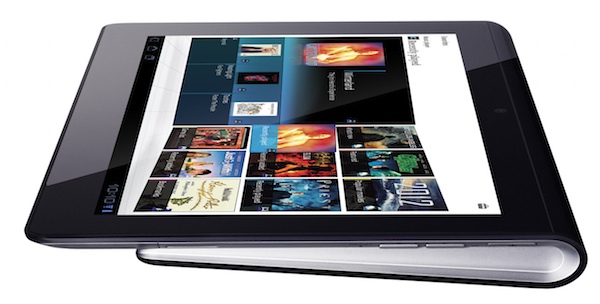 If compared to our traditional spec announcements, it seems that we are being coy with details and not stating Wireless B/G/N and Bluetooth 2.1, it's actually because Sony is being coy with the details and we feel like that is for the better. Many tablet manufacturers have come and gone, like HP, or have failed to gain any traction, like the Motorola Zoom, and their key thing has been superior specs. However, t seems like, in the end, consumers didn't–and don't–care about specs. All the processing and RAM power in the world isn't going to change the lack of software support and lifestyle features. I'm sure as the tablet nears launch, Sony will have all of the little details released for the public and press, but in reality, the mass consumers, who Sony really needs to pitch this to, don't know and don't care to know that it has wireless N and not just B/G.
The Sony Tablet S is currently slated for release in just a few weeks with the 16GB Wi-Fi version priced at $499 and the 32GB Wi-Fi version following at $599. There will also be a Wi-Fi + 4G variant available at some time too, exclusively on AT&T, but we don't have a release window or price point to report yet. As we pointed out, Sony is more focused on functionality than specs this time around. This is especially apparent in some of the devices' native functionalities. For example, with the included IR blaster and a custom app, the Tablet S and Tablet P are capable of controlling other Sony devices like their Bravia televisions and receivers. Even the PlayStation 3 can be controlled via Bluetooth.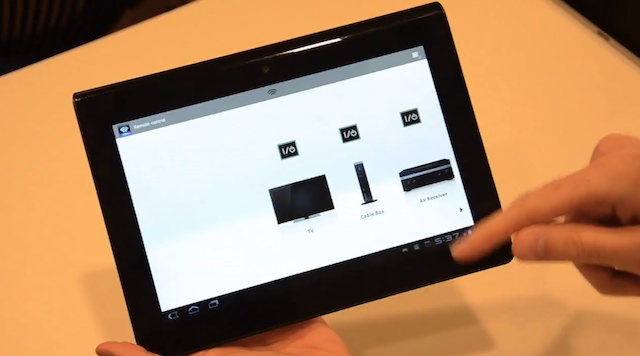 Other native applications include the PlayStation Suite software, which allows both tablets to play PlayStation One games like Crash Bandicoot, and utilize the Reader Store, which gives you access to the millions of eBooks that will also sync with your Sony Reader and Sony Reader Android App. Music and video fans will also know that Qriocty, Sony's unlimited music streaming service and video download store is fully baked in as well, giving you access to millions of songs and thousands of videos to consume. DLNA is fully present as well in this Android Honeycomb 3.1 tablet, which allows you to stream music and video to other DNLA-compatible devices like Sony's Bravia televisions and Blu-ray players, though Sony is only part of the many companies who make DLNA compatible devices.
With a folded-magazine-like design, the Sony Tablet S also dares to do something different than your traditional flat tablet. The design choice, though different, wasn't done simply for the sake of being different. Instead, the weight distribution is designed to place more emphasis on the palm of your hand where you are stronger as the edges get lighter and thinner for an easier one-hand grip. For all the differences that the Tablet S provides, the Sony Tablet P, previously titled the Sony S2 tablet, is even more daring and different.
Obviously, the Sony Tablet P looks different than most other tablets in the market or that are going to come to the market. With a dual 5.5-inch multitouch clamshell display and weighing in at 0.82 pounds, the Tablet P probably looks and weighs like nothing else on the market. Again, Sony didn't design the Tablet P to look different for just a selling point; instead, they aimed to get a different kind of functionality. The specs of the Tablet P put the device in similar territory as the Tablet S.
Dual-core 1GHz Tegra 2 SoC
Android Honeycomb 3.2
Dual 5MP and VGA cameras
HSPA+ radio
Wi-Fi
3,080mAh battery
Full-sized SD card slot
4GB of internal memory
Micro-USB socket
3.5mm headphone jack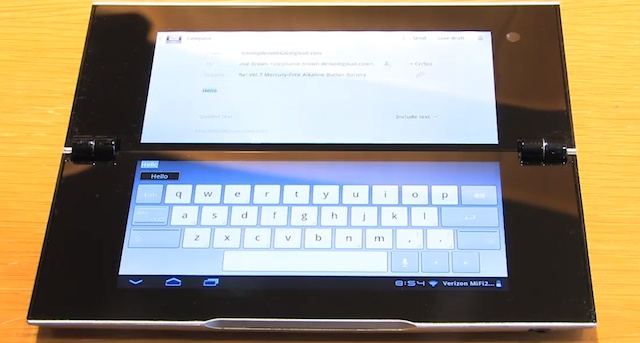 Unlike on the Tablet S, gone are the large internal memories, and instead, users can load of the SD card size of their choice with the media that they want. On the other hand, like the Tablet S, Bravia-like screen quality is present, thanks again to Sony's TruBlack and Bravia technologies. The Tablet P will also come with the same Reader, Qriocity and PlayStation-Suite-certified apps. Retaining much of the functionality of the Tablet S, the Tablet P instead is probably aimed at a much more niche market. With a small footprint due to the clamshell design, the Tablet P can fit in just about most places though it's not as thin as the Tablet S. Because of that same clamshell design, Sony has also optimized a lot of the built in apps. For example, users can view the game they are playing on the top screen while the controls are in the bottom; same goes for video. When it comes to tweeting or sending out an email, the top screen again is where your content is while the bottom screen displays your keyboard. This dual screen functionality is designed to give the multi-taskers out there some real advantages. For instance, you could have a map on one screen with a tweet on the other. The possibilities of this tablet are endless, depending on how Sony markets the device. We still don't have a release window for the device, though we know that it will land some time this year. Also, AT&T will be the exclusive carrier of this tablet but no price point has been announced yet from either parties.