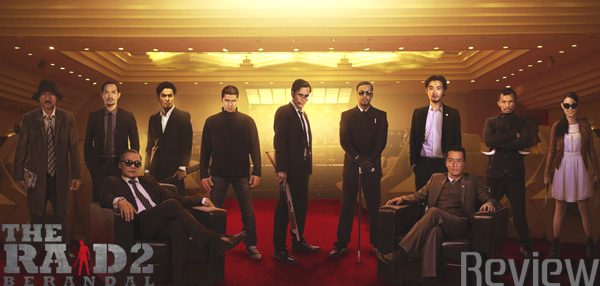 The Raid 2 is the sequel of The Raid: Redemption. This is a confusing fact to some people, including professional movie website Yahoo Movies, which has the first movie listed on their box office chart for this week.  Yahoo went so far as to link to clips and promotions from the first movie as well. They flat out don't know what movie is in the theater right now.
Here's some proof:
So let me set the record straight.
The Raid: Redemption is an amazing blaze of martial arts craziness that had me all jacked up for the sequel.
The Raid 2 my friends, is a whole other level of epic. Ditching the confines of the single building location of Redemption, where Indonesian police officer Rama uses his fists, feet, knives, and guns to survive a total criminal onslaught; director Gareth Evans tells a sprawling and complicated story of the barely peaceful coexistence of two gangs that run the city and how our hero, Rama must infiltrate them to root out the corrupt police he exposed in the first movie.
Evans slows the pace way down to tell an honest to goodness story this time. Lingering on long, gorgeously composed shots of color and composition, which shows his immense growth as a cinematographer, we learn of the delicate balance of peace between two rival gangs headed up by respectful men of violence, Goto and Bangun. Our hero Rama inserts himself into prison to befriend Bangun's son to work his way into the system. And what better way to befriend someone than protect him from absolute death in one of the many outstanding fight sequences in the film: a crazy prison fight in the wet mud with about 100 different people beating each other into pieces. The camera deftly moves among the most interesting mini-stories within the fight so that you easily follow what is going on and it never looks like nameless randoms flailing ineffectively. There is some serious maiming action going on. Be prepared because this is just the start, and when it goes into action mode, it goes full throttle with broken bones and ripped out throats on full display.