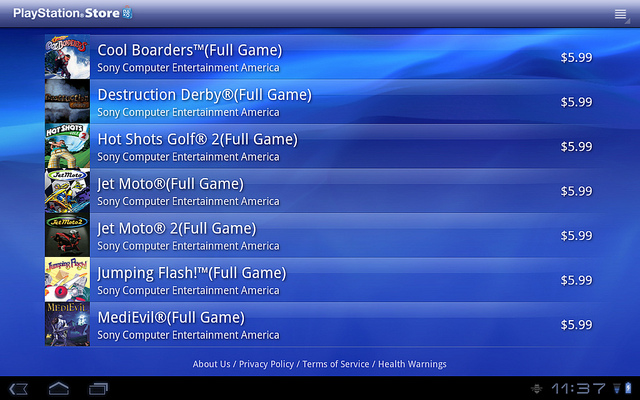 Sony has long recognized that in order for the PlayStation brand to expand, they would need to reach outside of the traditional PlayStation family, which currently includes the PlayStation 3, PSP, and will expand with the PS Vita in February 2012. The Sony Ericsson Xperia PLAY is currently the only PlayStation Certified Android smartphone with PlayStation games available for it, though it still has no access to the PlayStation Store. The Sony Tablet S, however, is not only the first PlayStation Certified tablet, but is also the first to receive the PlayStation Store.
The PlayStation Store launches today on the Sony Tablet S in nine countries, including the US and Canada. 10 PlayStation One titles will kick off this event with Sony planning on adding more as time goes on. There have even been rumors of PlayStation 2 titles eventually making their way onto the store though I wouldn't hold my breath on that. Each PS One title will cost $5.99, the list of which includes:
Cool Boarders
Destruction Derby
Hot Shots Golf 2
Jet Moto
Jet Moto 2
Jumping Flash!
MediEvil
Motor Toon Grand Prix
Rally Cross
Wild Arms
Installing the PS Store is easy. Sony Tablet S owners will receive a notification letting you know that the PS Store has opened and is available for download. From there, simply follow the on-screen directions to download the PS Store App and start downloading games for the Sony Tablet S.
Sony has always insisted that the PlayStation Store experience will not be limited to their smartphones and tablets and that other manufacturers are able to get in on the action as well. This entire initiative is based around expanding Sony's reach with the PlayStation brand in hopes of drawing people back into their main devices like the PlayStation 3 and PS Vita while also setting their devices apart.