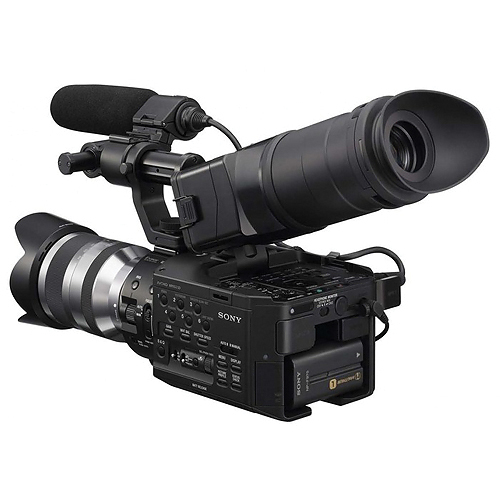 Do you remember the Sony NEX-FS700 that got announced last month? Yea, the one capable of recording 4K footage with Super Slow Motion (120-240 fps Full HD or 480 up to 960 fps with reduced resolution) and was rumored to be priced under $10k? While many ran around in a frenzy, saying that Sony couldn't offer a low price and that the RED Scarlet is already priced near $10k, they seem to forget that with that price, RED only offers you a camera body. In actuality, most RED cameras since they require propitiatory cables, batteries and accessories start near the $16k price range. Delighting us today, its been revealed that the NEX-FS700 price tag will be well below $10,000 for a body and still under $10k with body and lens. We talk price, after the jump.
The price of the Sony NEX-FS700 stands at $7,999 for body while body and with 18-200mm lens costs $8,599, placing the camera drastically lower than those offered by RED. For example, RED charges $2,500 for a 7-inch LCD, $220 cables, $3,200 EVF, while requiring a proprietary REDmag card to record for $1,500 and 256GB SSD for $3,200. Sony on the other hand offers a built in 3-inch LCD screen and batteries. Expected availability puts the NEX-FS700 release date for early July.
Discuss:
Are you surprised by how aggressive Sony was able to price the NEX-FS700?
[Via BHPhoto]