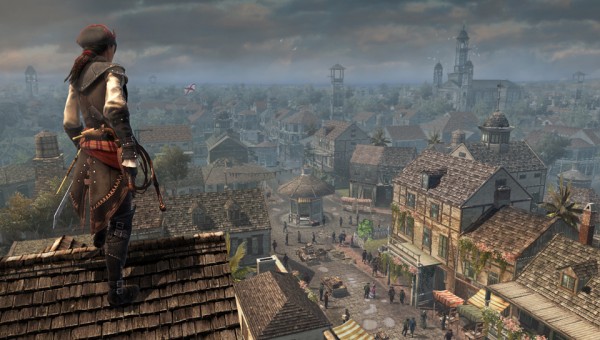 While not a lot of games were shown for the PS Vita at this year's Sony E3 press conference, one Vita game did take center stage during the presentation; one which managed to bring a few surprises to a well-established franchise. Assassin's Creed III: Liberation will be released this fall on October 30 on the PlayStation Vita, available as a standalone game or as a part of the "Crystal White" Wi-Fi Vita bundle that Sony also announced during the press conference.
Sony debuted Liberation's first trailer, with Sony Computer Entertainment of America President and CEO Jack Tretton calling the franchise "one of the most acclaimed franchises ever created in gaming" and that, much like previously released title Uncharted: Golden Abyss, Liberation is developed specifically for the Vita and its many features.
According to the latest issue of Game Informer magazine, Liberation is set in 18th century New Orleans and will star an African-American female assassin named Aveline, whose connection to Desmond is currently unknown. Tretton also mentioned during the presentation that linking the two versions of Assassin's Creed III (the Vita version and its PS3 brethren) will provide the Vita version with Connor's tomahawk, an exclusive character skin, a multiplayer character, and a bonus in-game upgrade of ammunition pouches. No further information is available about the multiplayer side of things, though the trailer does have a ton of footage from the single player portion of the game.
The short trailer shows Aveline wielding dual hidden blades and executing the same types of cinematic kills and takedowns the series is known for, as well as providing a peek at the tree-based forest traversal that will possibly play a large role in the game.
Hit the jump to check out the Assassin's Creed III: Liberation trailer for yourself.
Discuss:
What are your thoughts on Assassin's Creed III: Liberation? Is this the "killer app" the Vita needs to jumpstart sales?