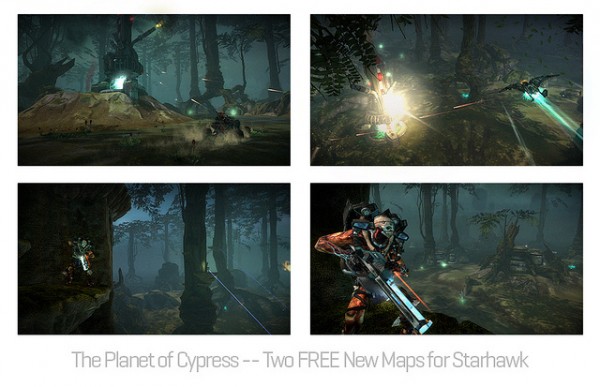 Starhawk's 1.03 update is now up and it includes two free maps located in Cypress. The new 1.03 update also includes patches or fixes that fans have been requesting like increased level caps, new space homeworlds, team balance fixes, an update voice-chat system, interactive music updates and much more.
Find out more about Starhawk's newest FREE maps and fixes included in version 1.03 after the break.
The two new maps are set in Cypress, meaning that the world will feature a new world that's quite different from the ones that fans are familiar with. Players will see more vegetation, more trees, and some brighter colors as compared to the older maps. As well, players will be able to go into brand new pre-built structures that are exclusive to the Cypress world. The two maps are:
Cypress: Collider
In Collider, players will be able to see the huge particle collider that's the main centerpiece of the map. Again, the new maps have pre-built structures and these are perfect for those who prefer their combat in close quarters.
Cypress: Origin
In Origin, players will be able to battle it out towards the center of the map where an old Rift Extractor lays destroyed. And since both maps are built like an interconnected series of islands, water is usually shallow enough that players can drive through it or build structures on.
In addition to the maps, the developers also implemented a number of changes and additions to the core gameplay including:
Prestige Levels
Waypoint Space Homeworld
Team-Balance Fixes
Revamped Voice-Chat System
Push-to-Talk Option
Vulture Jet Pack Eject
Rift Barrels Seen on Mini-Map
Bug Fixes
Ranked Option
Skills Shortcut at the Respawn Screen
Build & Battle Icons when Respawning
Display Nearby Build & Battle Structures
Cooldowns for Host Kick and Team Switch
Interactive Music Update
Capture the Flag Scoring Change
Sorting Unlocked Customization
Drop-Pod Upgrade
Custom Music via XMB
Learn more about these Starhawk fixes and additions on Dylan Jobe's blog post found on The Official PlayStation Blog.
DISCUSS
Which of the new Starhawk ver. 1.03 features and additions are you most excited for?