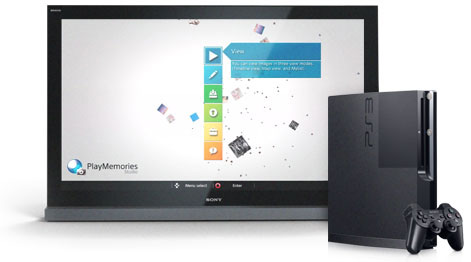 PlayMemories Studio, the companion app for PlayMemories Online, Sony's answer to services like Photo Stream from Apple is getting an upgrade on the PS3. The app which till now has allowed you to view images and edit them to Sony's cloud based service is gaining a few new tricks on the PlayStation 3 with the most recent updated. While there are some lesser additions to this update like  10 new background music tracks and 29 extra sound effects, the real upgrade lies in the addition of 4K image support.
Owners of the Bravia KD-84X9005, Sony's 4K television now have the option to playback their photos in 4K resolution. This can be achieved via photos directly downloaded to the PlayStation 3 or those that land on the device via the cloud, thanks to PlayMemories Studio 2.0. The update is of course available to all though most won't get any benefit from the 4K. Sony has also added the ability to archive photos and videos in HD resolution (720p). Other changes include:
You can now view images on PlayMemories Online™
Improved resolution of exported videos
Improved speed of thumbnail display
Improved editing functions
PlayMemories Online is available on the PS3, PS Vita, iOS, Android, and many 2012 Sony Bravia televisions. On a final note, with the PS3 slowly gaining incremental 4K support and Sony releasing more 4K capable devices, its not a stretch to assume that the PlayStation 4 will offer native 4K support for all content including games. 4K software updates like the one for PlayMemories Studio 2.0 also allow for a fleet of apps which will be ready to take advantage of the extra clarity the PS4 will offer at launch time, thus allowing the PS4 to be released with a more consistent feel and polish.
Discuss:
What's your experience been with PlayMemories Online?
[showhide]
PlayMemories Studio adds 4K support
19 December 2012
Enjoy your personal photos in brilliant 4K
PlayMemories Studio for PlayStation®3 (PS3®) has been updated to include the brand-new ability to output images on Sony's 4K TVs that offer around four times more detail than Full HD. With PlayMemories Studio, viewers can now enjoy high resolution photos taken with their digital camera on Sony's 4K-enabled BRAVIA KD-84X9005.
Available from today, version 2.00 of PlayMemories Studio also offers improved editing functions, including the ability to archive photos and videos in HD resolution (720p). There's also a choice of 10 new background music tracks and 29 extra sound effects, allowing users to exercise their creativity to make their digital content truly stand out.
In addition, photo and video files which have been stored on PlayMemories Online can now be accessed via PlayMemories Studio. Playback positioning on video files can now also be controlled by the analogue sticks on the PlayStation controller.
About PlayMemories Studio
PlayMemories Studio is an easy-to-use application that puts you in control of viewing, managing, editing and sharing all those special photo and video memories from the comfort of your sofa. Its integrated viewer allows the user to browse and view photos and videos on their TV screen. Content from cameras, stored on PS3 or a connected drive or USB memory is displayed together in a handy 'timeline' view. Looking for that particular shot? Powerful filters let you pinpoint images by date, smiles, favourites, GPS data and more.
About PlayMemories
PlayMemories is an easy-to-use family of services and applications from Sony to enrich everybody's digital imaging experience. With PlayMemories, precious photo and video memories can be enjoyed across multiple Sony products. PlayMemories currently includes these five separate solutions:
– PlayMemories Online – a cloud-based service for easy managing and sharing of videos and photos.
– PlayMemories Home – an application for organising and editing videos and photos on personal computers.
– PlayMemories Studio – an application for organising, editing and viewing videos and photos on PLAYSTATION®3 (PS3®).
– PlayMemories Mobile – an Android/iOS app for transferring videos and photos to smartphones or tablet devices from Wi-Fi enabled and compatible cameras
– PlayMemories Camera Apps – an application download service that lets you install new functions on demand to boost the capabilities of your camera
Download or try free for 30 days
PlayMemories Studio is available now for download at PlayStation®Store, priced at €15. A trial version (valid for 30 days) is available as a free download.
PlayStation®Plus subscribers can enjoy full, lifetime access to PlayMemories Studio at no extra cost as part of their annual subscription.
Customers buying the latest digital cameras and camcorders from Sony (α, Cyber-Shot™ and Handycam® models) will receive a digital coupon for a free download of the paid-for version of PlayMemories Studio. Please visit the coupon download site www.sony.net/pms/code for details of applicable models.
For more information please contact
[/showhide]