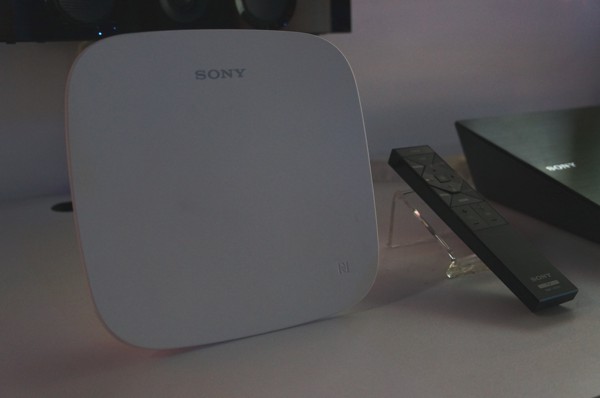 One of the more interesting and less expected products from Sony during CES 2013 was the Personal Content Station. Pictured above, the white router shaped device houses an internal 1TB hard drive and acts as a backup device for tablets and smartphones via Wi-Fi. The device which mimics some of the capabilities of the Apple Time Capsule which is designed to make backing up simpler aims to do the same for the mobile generation. Equipped with NFC, the Sony Personal Content Station can easily start a backup from other NFC enabled devices like the Xperia Z  smartphone and maybe the Xperia Z tablet with just a tap. Knowing that the number of NFC devices in the market is still limited, the Personal Content Station can also backup your media from traditional Android and iOS handsets via the free 'PCS Manager' app, which will be available through Google Play or App Store.
The Personal Content Station can also act as a backup hub for Sony's Wi-Fi enabled cameras like the NEX-5R and select Cyber-shot units. Have a none Wi-Fi camera? The Personal Content Station also has you covered there with a Memory Stick Duo/SD memory card reader and USB input, no matter the make and model of your camera or camcorder. Once your content is backed up, via the free app and HDMI out, you can display your media on your TV of choice of share them on sites like Facebook and Twitter. Priced at $299, the Sony Personal Content Station will launch on April 30th in Japan and June in the US.
After the jump, our Personal Content Station video preview from CES 2013.
Discuss:
Is the Sony Personal Content Station a device you'd purchase?