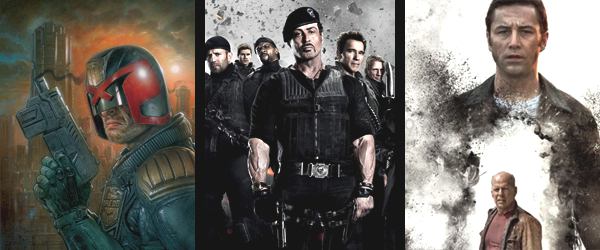 It wouldn't be a proper film year without a series of action movies and 2012 was no different. Our 2012 films in review pt. 4 takes a look at films like Killer Joe, Expendables 2, Dredd 3D, and Looper. If action isn't your thing, fear not as I've shared my reviews on documentaries like Side by Side and Everything or Nothing: The Untold Story of 007 which bears my highest recommendation.

Killer Joe –
3.5/5
"Wow." That's all that can be said about Killer Joe. Warning to the weary: This film is not for everyone! Director William Friedkin hooks up once again with writer Tracy Letts after their collaboration on "Bug" (a personal favorite). The two went further back into Letts' plays and decided to adapt this particular story of depravity. Matthew McConaughey plays our title character, a cop who doubles as a hitman. He's hired by a trailer park family to take out a particular member with a generous life insurance policy, and holds onto their sexy and slightly brain-damaged daughter, portrayed by Juno Temple, as a "retainer" until he gets paid. It just keeps getting more messed up from there.
Funny, disturbing, controversial, enraging, well-directed, well-acted. There's nothing easy to take about this film. I wouldn't want it any other way, though. My love of Friedkin comes from his fearlessness in what he presents, never batting an eye and forcing us to examine things we may otherwise try to avoid. It may be uncomfortable at times, but I never felt any less enriched by the experience.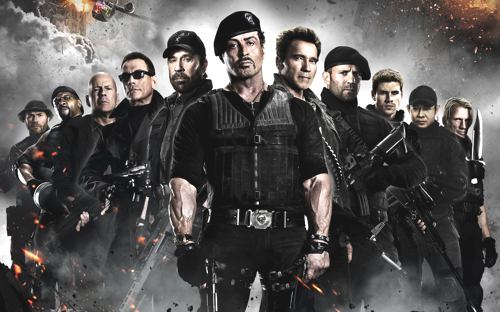 Expendables 2 –
1/5
I was not a fan of the first Expendables. I felt the opportunity to do a satire of a time and genre I loved growing up was completely missed, instead replaced with just another generic action plot. For some bizarre reason, I thought they'd maybe do something new for a sequel. They didn't. I love Stallone, Schwarzenegger, Willis, etc., but they aren't fooling me for a third time when the inevitable happens. No more, please.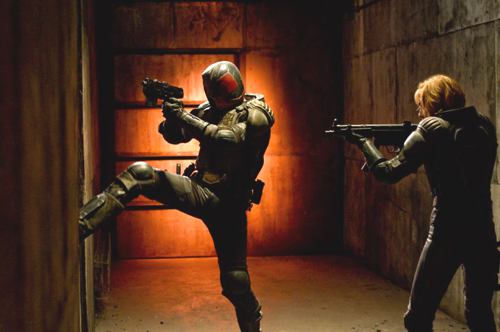 Dredd  3D –
3.5/5
The final comic movie of the year might have bombed at the box office, but I thought it was pretty damn good! I wasn't a particularly huge fan of the original Stallone film of the 90's (that seems to be a general consensus), but I did see the British creation pop up in occasional American comic crossovers. I also have many fond memories of headbanging along to Anthrax's homage "I Am the Law" in my teens. This release finally gets it right.
Karl Urban is Dredd, delivering the character to deadpan perfection, without ever removing his helmet to boot! He and a rookie investigate a highrise under gang rule, run by a character simply referred to as "Ma-Ma", played by Lena Heady (Sarah Connor Chronicles). Slo-mo drugs get involved and craziness ensues! The violence is over the top, the pacing and entertainment is on high. I'm just bummed we'll never see a sequel, because the groundwork laid here was fertile.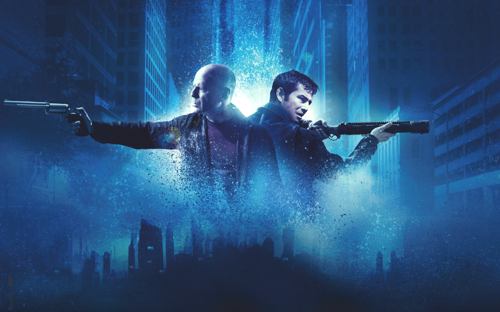 Looper –
3/5
Allow me to preface by saying I LOVE time travel stories. It's easily my favorite type of sci-fi storytelling. I followed Looper with anticipation. The plot sounded like a blast. My one worry was director Rian Johnson, whose only other film I had seen (Brick) was rife with pretension and impossible to follow. I was hoping he'd leave that at the door and focus on telling a compelling and fantastical story. For the most part, he did.
Joe (Joseph Gordon Levitt) is a very unique kind of assassin in the near future. Mobs send back people they want taken care of to the past, where "Loopers" dispose of their existence. When their list is complete, they send the assassin himself back to be killed by his younger self, effectively closing the "loop" and removing all ties back to them. Sounds a bit heady, I know. And it's a neat high concept.
Joe comes face to face with his older self (Bruce Willis) and unfortunately, royally screws up by not getting the job done. Now he's tracking himself down to try to make good and not get killed by his present employer. I was pretty involved in the plot, until they pull a "What the hell?" third act twist from out of nowhere, unfortunately hurting the overall film. Still, they got quite a bit done for the budget they had. It's certainly still enjoyable and worth a watch.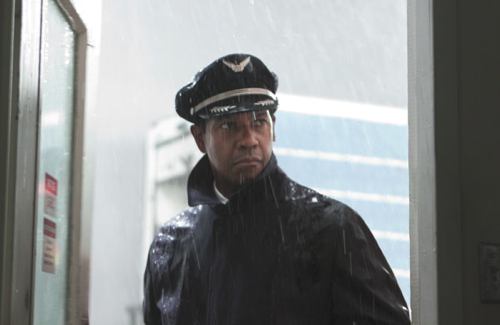 Flight –
4/5
It's been a while since I've seen a straight up great drama and this would qualify as one. In Flight, Denzel Washington plays a pilot who manages to do the impossible and avert disaster by successfully landing a malfunctioning plane destined to kill everyone aboard. Initially hailed as a hero, some troubling facts come to light: he was legally intoxicated and high on cocaine at the time. Investigations ensue and our lead has some soul-searching to do.
The heart is interwoven with well-timed humor in Robert Zemeckis's return to live action direction for the first time in over a decade. The performances are fantastic, with a delightful supporting role from John Goodman in particular. There aren't too many films of this caliber released annually. One of the best of the year and highly recommended.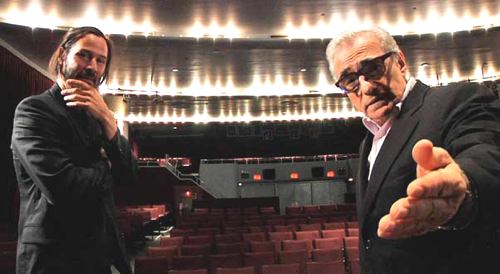 Side By Side –
4/5
I'd been foaming at the mouth to see this documentary. Hosted by Keanu Reeves, Side By Side explores the world of physical film vs. digital, with interviews from greats such as David Lynch, James Cameron, David Fincher, Martin Scorsese, Robert Rodriguez, Christopher Nolan and many others. One of the most informative pieces on modern film-making available. If you can manage to get used to Reeves' chuckle-worthy narration skills, you're in for an eye-opening treat.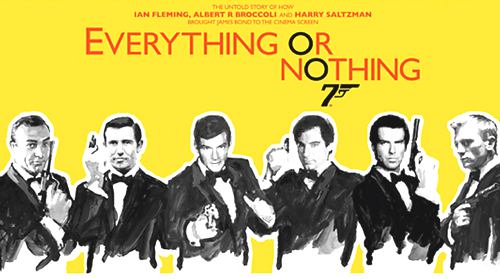 Everything or Nothing: The Untold Story of 007 –
4/5
This recently debuted on Netflix, and as a Bond fanatic, I had to watch it, regardless of the fact that I pretty much knew every fact you could on the history of the franchise and the making of the films. What I was blown away by was the fact that the films themselves were more peripheral, and the focus was more so on the overall growth and legacy of the character and the family roots involved in the making of each era of the series. Bond himself takes a back-seat to the fantastic stories of creator Ian Fleming, producers Harry Saltzman and Cubby Broccoli, and the never-ending nightmare of Kevin McClory trying to ruin it for everyone. Archive footage and photos are presented, with some truly tear inducing tales from surviving family members about the struggles the producers went through to keep this legend on screen. There's also some particularity wonderful candid footage of George Lazenby and Pierce Brosnan discussing their time in the tux. Everything or Nothing: The Untold Story of 007 comes highly recommended for even the most remote 007 fan.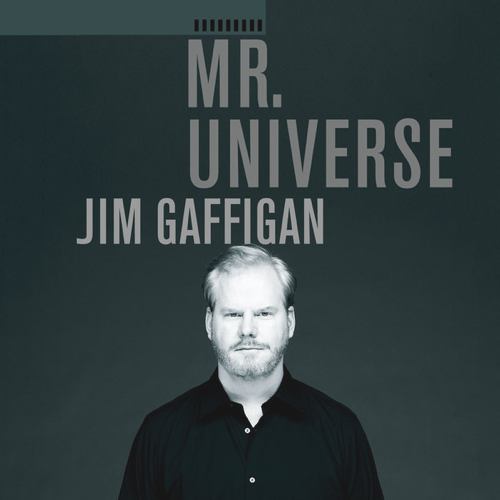 Jim Gaffigan: Mr. Universe –
5/5
I didn't want to wrap up 2012 without mentioning my favorite comedian's newest stand-up special, also available on Netflix. While "King Baby" was not on par with his opus "Beyond the Pale", Mr. Universe is big a step up, with a focus on much stronger material and less rehash. This was initially released as his first independent feature digitally, based on the template set by Louis CK on "Live at the Beacon Theater". This format (guaranteeing the comedian profit without paying unnecessary middlemen for physical media) is fantastic and is destined to be the future of stand-up specials. Myke says check it out!
Special Segment: Television in 2012
Now, I'm not much of a TV guy. But there were a handful of shows I kept up with. Here's a quick run-down of what I saw and what I thought:
Young Justice (S01E19-26 and S02E1-10) – 5/5
Green Lantern: The Animated Series (S01E03-16) – 4/5
Arrow (S01E01-09) – 2.5/5
Breaking Bad (S05E01-08) – 5/5
Walking Dead (S02E08-13 and S03E01-08) – 4/5
Talking Dead (S01E08-13 and S02E01-08) – 3/5
Comic Book Men (S01E01-06 and S02E01-08) – 4/5
Louie (S03E01-13) – 5/5
Coming Soon – First review of 2013, Batman: The Dark Knight Returns part 2. Till then, be sure to read my 2012 films in review part one, part two, and part three.
Discuss:
Want to know more about why I gave any of the following scores? Just let me know in the comments section below.