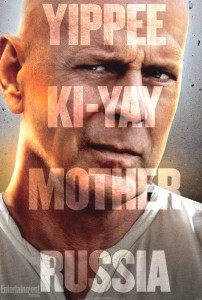 Four new releases in the top 10 this week, three of which opened early due to Valentine's Day. First up is Good Day to Die Hard, which pulled in $25 million, for a four day total of $33 million. It bumps Identity Thief from the top spot, which still manages to hold second place, adding $23.5 million for a $70.7 million total (twice it's $35 million budget).
Safe Haven debuts at #3, with $21.4 million, managing a four day total of $30.3 million. Escape From Planet Earth, which was the only new release to open on Friday, pulled in $16 million for the #4 spot. Warm Bodies falls from #2 to #5, with a $9 million pull, crossing the $50 million mark.
Beautiful Creatures debuts at #6, with a disappointing $7.5 million and a four day total of $10 million, against it's $60 million budget. Hit the list below for the other stats.
Domestic Box Office Top Ten:
Good Day to Die Hard – $25 million
Identity Thief – $23.5 million
Safe Haven – $21.4 million
Escape From Planet Earth – $16 million
Warm Bodies – $9 million
Beautiful Creatures – $7.5 million
Side Effects – $6.3 million
Silver Linings Playbook – $6.1 million
Hansel and Gretel – $3.5 million
Zero Dark Thirty – $3.1 million
Discuss:
Have you seen Good Day To Die Hard? If so, what did you think of it?