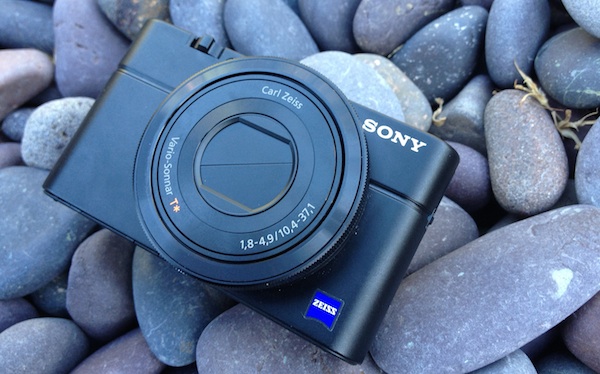 Let's get one thing out of the way; if you're looking for the most in depth Sony RX100 review, then the following isn't probably going to fit the bill for you. There are lots of review sites who will break down this and other cameras ISO by ISO and compare them against 10 other models. While that is a wonderful and perfectly acceptable way to approach things, chances are, that's not how you shop for most things. Comparison is good and understanding a devices feature are smart but the reality of it is, most don't utilize their cameras full potential. This is especially true when it comes to point-and-shoot cameras which are often just left on automatic. With our review, we set out with that criteria in mind. How good of a camera is the RX100 when all we want it to be able to pull the camera out and start capturing.
I've long been the family and friends memory keeper by being the person who's always has had the camera with him, be it a party, movie night, or vacation. It's just too bad that not all my photos are worth posting on Facebook, let alone printing them out and/or creating a booklet from like you can from iPhoto or Shutterfly. This problem will continue to manifest itself with the advent of Retina displays on all of our devices and eventual transition to 4k televisions. With the right camera at your side though, not only will your pictures turn out great for your personal viewing pleasure, but you can also be sure that their quality meets the upcoming technological changes that are either around the corner or have already happened. I'm here to tell you that the Sony RX100 is the best point-and-shoot camera I've ever used. After the jump, our RX100 review breaks down the super-camera's photo/video capabilities and its retro design.
The Camera
The first thing I want to get out of the way is the price of the RX100 which is $649. For some, this may automatically put an end to their reading as they cannot afford something within that price range and that's perfectly understandable. For those of you who might be on the fence due to the price, or if think you can save for this camera, I encourage you to keep reading as I'm positive you'll walk away with a plan on how you can get your hands on one of these. If I was a salesman at a big box retailer, I'd tell you that you can't afford not to buy this camera!
If I seem overly enthusiastic about this camera, its because I was shocked at the results. As I pointed out earlier, I've always been the picture taker, having compiled an iPhoto library of 26,000 photos since 2004 and that's not counting photos for professional events which eventually get discarded. Throughout my time, nothing has peeved me more than seeing grainy pictures, out-of-focus shots, and that yellow/red hue that appears on any photo that's taken in low light. Even when those don't factor in, not all cameras have the chops to take crisp pictures, which become even more evident as we move towards Retina display units while creating photo booklets, thanks to services like Shutterfly become easier and cheaper.
The RX100 addressed these issues with a full 1-inch image sensor with 1.8 f-stop, helping you achieve you crisp photos, even in low light. This blows past any other previous Cyber-shot cameras, including the superb HX9V and easily outdoes the competition like the Fujifilm X10 (2/3-inch sensor) and the Canon S100 (1/1.7-inch). As Imaging Resources put it:
 As with the low-contrast crops, the high-contrast crops show the Sony RX100 besting the S100 and Nikon J1.
This is due to the camera's enormous sensor, which allows it to take in much more light than other point-and-shoots. While this can be seen in daylight photos, it really comes into play when photos are taken in low light situations which traditionally starve the sensor of ample light for a crisp photo. The RX100, instead, thanks to its 1.8 f-stop and 1-inch camera sensor has the ability to take in that precious light, however small it may be.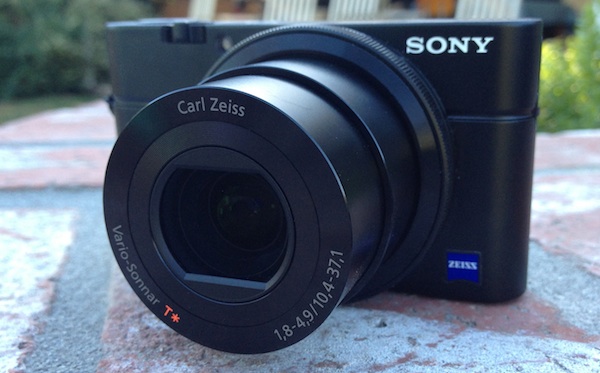 Of course, the crispest pictures in the world don't mean anything if there isn't enough megapixels to back them up. While you might hear the saying that you don't need anything more than 8-megapixels on a picture unless you're doing posters, this couldn't be further from the truth. Devices like the iPad with Retina display feature a 2048-by-1536 resolution, while desktop computers continue to come in larger and larger sizes. In fact, Sony just recently announced an 84-inch 4k television with 3840 x 2160 resolution. While you might not have any of these devices, chances are that your next desktop computer will be bigger than your previous machine and that a future tablet purchase will include a retina display. Even your television will more than likely be 4k in a few years. With our media no longer being held hostage by our computers, during your next party, you're more likely to display your vacation photos on your big screen TV and that your tablet will be your new album. Now you can see why, even if you decide to edit and crop around photos taken on the RX100, which will result in a lower megapixel count than its 20-megapixel (5472 x 3648) resolution, the RX100 is not only not overkill, but potentially necessary for the next generation displays. Another use for such a high megapixel count and cropping will show itself with the camera's mid-range 3.6x zoom. This is below the traditional 5x zoom most point-and-shoot cameras have and well bellow Sony's on HX series which provide between 10x-20x zoom (depending on the model) though the RX100 can zoom can be boasted to 7.2x if digital zoom is turned on.
Of course taking pictures is only half the story and although that's primarily what most of us will use this camera for, we can't forget about its video capabilities. The Sony RX100 is capable of taking full1080p (1920 x 1080) video at 60p/60i, 30p, 30p. Thanks again to its built in CMOS sensor Carl Zeiss lens, video quality is pristine and allows for fantastic video editing in full HD. For those curious, the camera's movie formats include: AVCHD 2.0 / MPEG-4 AVC (H.264) with Dolby Digital (AC3) / MPEG-4 AAC-LC. Those looking for more specs can find out more on our previous RX100 coverage.
Having a solid built camera thanks to top notch components is one thing, but to have a great camera with a great user interface and software is another thing. The RX100 follows in the footsteps of last few generations of Cyber-shot cameras with a new menu system which helps break down their use and features. A simple rotation of the dial on top reveals how that mode can best be utilized while more information about a specific menu or setting can be found by clicking on the question mark button on the lower right hand corner of the camera. This to me brought out one glaring issue, if it can be called that; the lack of a touch-screen. Having previously owned many of the Cyber-shot T series cameras and being accustomed to the world of the iPhone and iPads, I found myself tapping the screen many times by accident to have the camera focus on a specific area or choose an option on the cameras fantastic 3-inch screen.
Speaking of the world of smartphones, the RX100 comes equipped with a load of filters, including Toy Camera, Pop Color, Posterization, Retro Photo, Soft High-key, Partial Color, High Contrast Monochrome, Soft Focus, HDR Painting, Rich-tone Monochrome, Miniature, Watercolor, and Illustration, which should satisfy the Instagramer in all of us. Other 'Scene Modes' to help the camera adjust appropriately for your picture are Portrait, Anti Motion Blur, Sports Action, Pet, Gourmet, Macro, Landscape, Sunset, Night Scene, Hand-held Twilight, Night Portrait, Fireworks, and High Sensitivity.
All in all, between different scene modes, light situations, and mixture of photos with flash, I've been able to attend three separate events in the last two weeks, with an average of 150 photos taken and I've yet to run out of juice on the camera. This is also with the display on full brightness though the paranoid in me always recommends an extra battery on vacation. The RX100 battery is fully swappable though no battery wall-charger is provided. Instead, the camera can be charged via the provided USB cord from any wall-charger, computer, or car outlet.
The Design: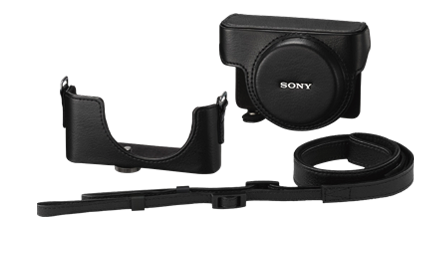 Retro camera fans should rejoice at the camera's kickback to the old days. In fact, if hung around your neck with the Sony Jacket Case (pictured right and sold separately), many might just thing you're carrying around a film camera. The RX100 is also built with quality in mind and though a bit heavier than other point-and-shoots, coming in at 7.5 oz (213g), the camera never feels too heavy to hold and easily still fits into a men's jean pocket. My only quarrel with the camera is its pop-up flash that I feel is begging to break. Other than that, the button layout is nearly identical to other Cyber-shot cameras, though the on/off button has been moved slightly so that its not accidentally pressed instead of the shutter button, something that many experienced in other models like the HX5. Sony also smartly moved the single frame/burst mode button which again had been placed on top of the camera on some models in the past, resulting in accidental burst mode photos.
Conclusion:
The Sony RX100 is nothing short of a revelation. With a 1-inch sensor and 20-megapixels and great battery life, you've never been able to take such crisp photos, be it in a gorgeous day or low-light situation like late night outings or indoor parties and events. While many hailed the end of the point-and-shoot cameras, thanks to the fantastic quality of smartphones like the iPhone 4S (which ironically used a Sony 8-megapixel sensor), I'm here to tell you that once you've used the RX100, you won't want to reach for your smartphone and you'll think twice about bringing your DSLR, even something as small and nimble as the NEX, to your next event.
---
Sony RX100 Score:
9/10
Pros:
Crisp photos
Fantastic in low light
Solid build
Fast start time
Beautiful screen
Great battery life
Cons:
Pop-up flash leads to paranoia of it breaking (no actual proof of this happening)
No touch-screen
Only 3.6x Zoom
---
Gallery:
---
Does our Sony RX100 review make you want to purchase one? Ordering with Amazon links from our site helps pay for the site's content and servers.