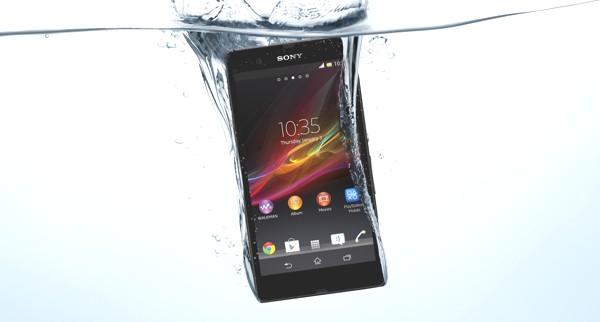 With the Samsung Galaxy S4 announcement now behind us, the general consensus seems to point towards a dud with an extremely awkward press event. So if you're ready for a new Android smartphone and or are ready to upgrade from your Galaxy S3, what are some alternatives? May we suggest the Sony Xperia Z which offers 5-inch display in a beautiful glass display, 13.1 megapixels, 4G LTE, and is NFC enabled. Seeing how we've been unable to get a review unit, we'll let you browse over what the other sites are saying about Sony's latest flagship phone.
Cnet UK: "The Sony Xperia Z combines looks, power and connectivity to supply one of the most impressive Android experiences we've seen in quite some time. The lack of Android 4.2 at launch is unfortunate and that 5-inch screen isn't going to suit everyone, but there's little room for complaint elsewhere. This is easily Sony's best phone yet, and one of the best Android phones ever released."

Stuff: "It's no mean feat to take on the Galaxy S3 (and Nexus 4) and live to tell the tale but the Xperia Z has stolen our top spot away from Samsung in style. Not only does it make Samsung's flagship look like a cheap toy with its tempered glass build and thoughtful design details, the Xperia Z also ups the ante with serious specs: a pin-sharp 5in 1080p screen, 4G, a quad-core Snapdragon brain and Jelly Bean 4.2 due just after launch. Sure, you may not feel the full benefit of those stonking figures right now, but you will have a lightning-fast, future-proof beast of a handset."
Lots more reviews, after the jump.
Wired: "Considering the power of the processor, it's a bit of a surprise that the 13.1-megapixel camera takes a good two seconds to start up. Not great for speedy snaps, but once it's up and running, it's a bit of a cracker. As well as Sony's Exmor R sensor, designed to improve the quality of pics taken in low light, features include touch-to-focus, face detection, image stabilisation, high dynamic range (HDR) automation, sweep panorama and GPS geo-tagging. All of that would matter naught if picture quality was subpar, but thankfully, it isn't; picture quality is really very good, even in low light, with sharp edges and realistic colours."
Android Authority: "For a good number of people, this is the phone that they have been waiting for – beautiful sleek form factor that we don't see often enough, great specifications inside to make the performance last and go the distance, and the fulfilment of brand loyalty. Sony certainly isn't among the top names in the Android market, but that should change – at least somewhat – with the release of their greatest mobile device yet. This is a phone just shy of 5 stars that deserves an incredible amount of credit – it's not just the phone that some of us have been waiting for, it's the phone thatSony has been absolutely anticipating finally releasing."
Trusted Reviews: "A mixture of high-end handset supremacy and a few small niggling issues, theSony Xperia Z takes the Japanese manufacturer so close to smartphone superstardom, only to fall at the final hurdles. Overall, the Sony Xperia Z is a device that impresses on first use, continues to please over time and which, thanks to its high-end specs collection, will remain future proof well into your two year contract. With the IP57 waterproof coating lining up as an inspired addition that we now covert on all future handsets, the quad-core CPU and 5-inch Full HD display of the Sony Xperia Z take it so close to becoming the next must-have handset. However, struggling to achieve close to a day's standard use severely knocks the Xperia Z's footing in our eyes and is an issue that could well be its downfall."
The Verge: "Much like the Xperia S that came before it, the Xperia Z suffers from the unfortunate duality of being both Sony's best phone to date and a merely average Android handset. There's just no getting around the fact that Sony remains one step behind the competition. It stacks up a heaving spec sheet just as specs begin to matter least, it introduces an all-glass design just as others start to move away from it, and, most importantly, it fails to provide a compelling argument for purchasing it ahead of HTC, Samsung, or even LG's alternatives. Sony loyalists and Android purists will find a few things to like, however the Xperia Z's lasting legacy will be one of unfulfilled potential and inadequate differentiation."
Android Central (Initial Review & Sample Images): "Immediately it's clear that the Xperia Z is Sony's best handset yet. But we're left wondering whether this device will simply be too much phone for the average user. Switching between the 5-inch Z and its predecessor, the 4.6-inch Xperia T, we noticed the latter offers much the same software experience on hardware that's nearly as good, in a more hand and pocket-friendly form factor."
Coolsmartphone: "Although I was not 100% blown away by the Sony Xperia Z, the sleek design, choice of black/white, 1080p screen and expandable memory were enough to keep me going and with the toughened glass on the front and back plus being water resistant up to 1 meter for 30 minutes you can use the Z and not have to worry about a case or using it in the rain. The Z is a great flagship from Sony and if they can get the few little issues sorted out in their next phone it will be VERY hard to beat."
Engadget: "It's been five months since Sony's last phone, Xperia T, was released. During that review, we noted that while Sony had perfected the art of the press shot, the hardware really didn't live up to the fantasy. Particularly in comparison to an iPhone, Lumia or HTC's One series, it did the Sonybrand a disservice. So, it's a relief to see the company now making a concerted effort to make a premium phone — and that's what this is. If you weren't sold on the older polycarbonate look, perhaps Sony's new beauty will be more to your tastes. Exactly how much rough and tumble the Xperia Z's glossy sides will stomach remains a mystery, but after our testing period the phone is still free of scratches. We also applaud Sony for bringing water resistance to its new phone. Protection from an early watery grave often meant settling for less when it came to design or performance, but that's certainly not the case with the Xperia Z."
Pocket-Lint: "We don't find Sony's customisations to be too intrusive and the attention to battery life is to be welcomed. It's not perfect, however, and the camera doesn't appear to offer much over previous flagship Xperia devices. It's a reasonable performer, however, but with rivals focusing all their attention on the camera, it's not the greatest feature of the Z. However, the display size, in this design of handset we like a lot. With some larger devices, you feel like you're compromising to for the sake of having a large display. The Sony Xperia Z plays its hand nicely, giving you that large screen experience, battery life that's well managed and overall performance that makes daily use a pleasure. Sony is really taking the fight to HTC and Samsung. It could well come out on top."
Slashgear: "There are two ways of looking at the Sony Xperia Z. In the context of Sony's track-record of smartphones, this is certainly the best to-date. It has the best display Sony has used, a solid camera, useful waterproofing (even if it does force annoying flaps on you), and sleek – albeit conservative – styling. It's not cheap and plasticky in the hand like the Xperia Arc was, nor slathered in plastic chrome trim. If you're a Sony devotee then the Xperia Z is the phone you've been waiting for. On the other hand, in context with the rest of the smartphone market, the Xperia X finds things tougher going. The design and build, while sturdy, lack the classic evolutionary styling of the iPhone 5, or the pristine, tactile elegance of the HTC One. It bests the Samsung Galaxy S III on display and construction, but Samsung has a new Galaxy waiting in the wings, and is almost certain to redress the screen balance."
T3: "The Sony Xperia Z is a pretty spectacular phone. It has an amazing display, a strong camera and that pub- pleasing extra that your phone is waterproof, even if it does mean you have to work to get at the headphone socket. It may be too big for some hands but is manageable by most – don't let the measurements put you off. Battery life is okay, but improved with Stamina mode. Above all, it looks just great – easily the classiest Sony mobile yet, and an equal with the best Android phones out there."
Tech Radar: "There is so much to love about the Sony Xperia Z – and while there are some annoyances, they pale in comparison. Yes, we think it's a bit shoddy that we encountered software bugs, but we suppose they can be fixed easily enough, and they weren't bad enough that we had crashes or lost data. The Sony Xperia Z has a beautiful design and finally represents an Android smartphone that can be used to show iPhone owners that they're not necessarily at the top of the heap anymore. The price is just a little too high in our opinion – but get it down to under £500 (which will surely happen in a few months), rush out a software update to improve the camera and you have a strong contender for smartphone of the year. The only problem is, by the time that's happened, the competition from fellow Android manufacturers will have grown even fiercer. For now, for those who can afford it, we recommend it heartily."
Gizmodo Australia: "Remember when Sony could do no wrong? Back in the days of awesome CRT TVs, Discmans, Walkmans, miniDisc players and killer sound systems? The shine has been off Sony's apple over the last few years, but ever since last year's IFA tech fair in Germany, we've been seeing hints of the Sony sparkle here and there. With the release of the Sony Xperia Z, however, it's confirmed: the magic is back at Sony, and this is the best handset it has ever made."
Gizmodo UK: "Woefully, the battery-life gremlins have come home to roost once more. That big screen and powerful processor munch through the 2,330mAh battery's electrons with depressing consistency, leaving you struggling to get through a full day of use. In real-world terms, you'll get through a working day without too many problems, but this ain't no Duracell bunny — if you go partying at night, your phone won't be there to guide you to the kebab shop at the end. In an effort to combat it, Sony's incorporated a 'Stamina' mode into their custom Android skin. It promises to suppress background apps that you don't need, without impacting the usability of the device, and thus quadruple the battery life. In reality, there's as much chance of that happening as there is of Kaz Hirai doing his next keynote astride a flying unicorn. As far as I can tell, all Stamina mode really does is turn off mobile data when the screen's not on."
GSM Arena: "This must be the best time in a while to be a Sony fan. The Xperia Z is a burst of confidence and inspiration that will rally the troops and send a warning to the opposition. Another message is delivered too, loud and clear: Ericsson is no longer a haunting shadow. Sony has moved on. Well yes, we cannot pretend everything about Xperia Z is perfect. The screen indeed was a slight disappointment. Nothing to do with the size or the resolution – there's just not enough punch in it. Less than stellar contrast simply doesn't do it justice. The Xperia Z is an impressive package and looks the part with glass-covered front and rear, and assertive upmarket design. And if you thought it doesn't get better than that, the smartphone is dust and water-resistant."
The Inquirer: "The Sony Xperia Z is undoubtedly the best smartphone Sony has released in years. We weren't too keen on the firm's over-the-top software customisations or the handset's marginal battery life, but the Xperia Z is a huge leap for Sony. Thanks to its excellent touchscreen display, 13MP camera and slick performance, we think the handset gives the Apple iPhone 5, Samsung Galaxy S3 and HTC One X a run for their money. However, with the Samsung Galaxy S4 and HTC One just around the corner, Sony might have been a little late to the game."
IntoMobile: "Going against its competition, I'd still have to say Sony has a real winner on its hands. I know, once the Xperia Z finally gets released in the U.S. — it may not get a legit push from the carriers. However the company is showing that it's definitely changing things up on the design side, with a more compelling look that doesn't really follow the top devices on the market right now. Sadly, there isn't a clear timeline as to when people should expect the Xperia Z to hit the stores of carriers. This uncertainty only hurts Sony in the battle to stay relevant. The Japanese phone maker must get its phones out on time and ahead of big releases from its competitors. The Xperia Z is one of the best devices out right now, and most people in the U.S. know nothing about its existence."
PC Advisor: "The Xperia Z is the first smartphone which Sony has really nailed. We love the stylish, desirable and rugged design. The combination of excellent performance, a stunning screen and great cameras make the Xperia Z a force to be reckoned with. There is very little to say about this phone that is negative."
Phone Arena: "Sony's Xperia Z is the first new flagship smartphone to arrive in 2013. The device is pretty impressive with its gigantic 5" 1080p screen, quad-core processor and so on. Sony has done a wonderful job with the design of this phone. It could, of course, be even better, but we still see it as superior to what most of the other companies are currently doing with their flagship handsets. It's still early for any ultimate conclusions, though, because we're yet to see what Samsung, HTC and LG are to roll out this year, but by the looks of it the Xperia Z is to remain a relevant player even when those other handsets enter the fray. In the end, Sony's new flagship is a very well-rounded smartphone that will surely stand out from the crowd of Android devices in 2013."
Phones4U: "So, how does the Sony Xperia Z stack up against its flagship competitors such as the HTC One and BlackBerry Z10? Well, its uncompromising looks will certainly not be to everyone's taste, with opinion split in the Phones 4u office over whether it is a bit of a looker or a stark slate of a handset. However, it cannot be argued that the display is anything less than astounding. The quality on offer really is unlike anything that has been seen in the smartphone arena before, with HDTV levels of clarity and colour."
Thanks to the team at XperiaBlog for compiling the review highlights above.
Discuss:
When looking to purchase a new gadget, how much do reviews sway your opinion?