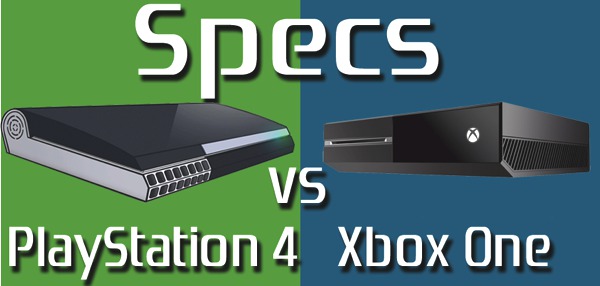 It's pretty obvious by now that the Xbox One reveal was anything but good for Microsoft. I'll leave my critique of the event, both positive and negative, for another article but as it stands right now, pre E3, gamers and press are simply not impressed. After the lack of clear focus on gaming, more damming news came out about the potential, or lack thereof, for the Xbox One. Thanks to developer knowledge and architecture breakdown of the new Xbox, it's now widely believed that the PS4 will be 50% more powerful than the Xbox One. So how have we come to this 50% in performance difference between the two machines? After the jump, we discuss the math.
If you've been keeping up with gaming news the past week, this probably won't be the first time you've heard the 50% performance difference number thrown around in headlines. Unfortunately, many sites have simply run with the number without actually explaining how this number came to be. This in turn either turns into a rallying cry for diehards on either side and even worse, leaves the readers with little new information to walk away with. Thanks to friend of the site MvdMigans who pointed us in the right direction, we can now properly break down the difference and go beyond blind claims.
As you can see from the above chart, the PS4 and Xbox One share many things in common. Both utilize an 8-core Jaguar CPU from AMD, capable of running at 2GHz though each company is opting to push them to 1.6GHz. Both systems will also offer 8GB RAM and 2 X 2MB L2 Cache, indicating a similar vision early on for the two consoles. From here on though, things begin to look very different between the two. While it's true that both systems offer 8GB RAM, the PS4 utilizes next generation 8GB 5500MHz GDDR5 RAM while the Xbox One opts for off the shelf 8GB 2133MHz DDR3 RAM. Early on in the creation of the PS4, Sony took a gamble that GDDR5 production would begin to ramp and higher module RAM would become available. Microsoft, on the other hand, went with a safer approach and stuck to DDR3. Those who might remember early leaked information about the PS4 will recall the system's RAM being pegged at 2GB RAM which at the time was the most GDDR5 could offer. Sony in turn took a gamble that by the console's launch, higher channels of memory would be available while Microsoft played it safe and in turn hoped that Sony would be stuck at 2GB of RAM. As we can see, things turned out quite different.
As AnandTech points out, Sony's approach with the PS4 SoC was to use a 256-bit wide GDDR5 memory interface running somewhere around a 5.5GHz datarate, delivering peak memory bandwidth of 176GB/s. The Xbox One motherboard reveals Micron DDR3-2133 DRAM on board (16 x 16-bit DDR3 devices to be exact). A little math gives us 68.3GB/s of bandwidth to system memory. At any given moment, the PS4 commands an additional 107.7GB/s bandwidth. But the difference doesn't end there.
With similar CPU choices, both companies also opted for a very similar GPU when it came time to power their console. Housed inside of each gaming console is an AMD GCN-based GPU but again the similarities end there. Sony opted for an 18 Compute Unit GCN configuration which equates to 1152 shader processors/cores/ALUs. Microsoft on the other hand went for a far smaller configuration: 768 (12 CUs). This means that the PS4 is capable of 1.84 TFLOPs while the Xbox One peaks at 1.23 TFLOPs.
It should be noted that the PS3 similarly was more powerful than the Xbox 360. The difference this time around is that while the PS3 was more powerful, it was also more complicated to design games for. This led to lazy developers who didn't want to take the time to master the system. Thus, why first party titles from Sony always looked superior like Uncharted and Killzone, most third party games looked exactly the same or at times slightly worse on the PS3, due to developers designing for the 360 and porting to PS3. This generation, with both systems using the same CPU/GPU, developers can easily design the game for both systems without needing to tweak it. The only difference will be that the PS4 will have more power than its counterpart.
In the end, it's simple to see why the PS4 is 50% more powerful than Xbox One. With more raw shader performance (768 SPs @ 800MHz vs. 1152 SPs & 800MHz) and faster RAM bandwidth (1.84 TFLOPs vs. 1.23 TFLOPs), the PS4 outclasses Xbox One in every way possible and no conversation of PowerPC vs. Cell processor is needed this time around.
Discuss:
Do you think it matters that the PlayStation 4 is more powerful than Xbox One?