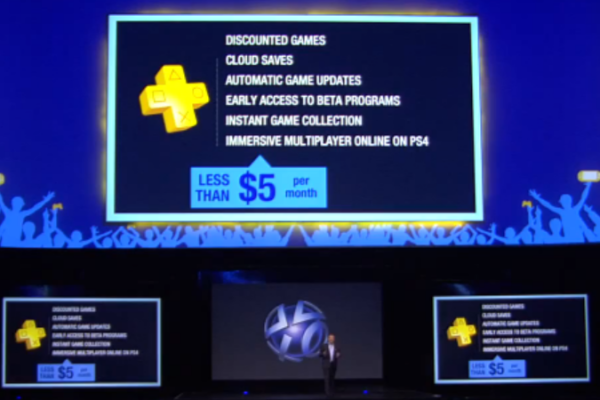 PlayStation Plus is a great service, and one easily recommended to both the casual and lifelong PlayStation fans. Launched just two years ago, the subscription-based online service allows cloud storage of game saves, automatic update downloads, access to exclusive betas, and free access to games through the Instant Game Collection — which just this week added Uncharted 3, XCOM: Enemy Unknown, and LittleBigPlanet Karting to its roster. On Monday at Sony's E3 media event, president of Sony Computer Entertainment America Jack Tretton revealed that the service would also now be required for online multiplayer gameplay on the PlayStation 4, a feature that is currently–and presumably still will be–free to PlayStation 3 and PlayStation Vita owners.
The question regarding PlayStation Plus requirements for online games was quickly raised by fans and the press, especially in light of a number of recent announcements of free-to-play games coming to the PS4. On Sony Online Entertainment's Twitch.tv livestream yesterday, the developers behind DC Universe Online revealed that their game would not require PlayStation Plus in order to play. Sony Online's other free-to-play MMO Planetside 2 is also playable without a PS Plus subscription, according to a statement received by Polygon. Polygon's story was updated late yesterday with a quote from President of Sony Worldwide Studios Shuhei Yoshida, who said that "[a]s far as free-to-play games are concerned, it's a publisher's decision whether they put it inside or outside of the PlayStation Plus requirements."
Along with DC Universe Online and Planetside 2, Zombie Studios' Blacklight: Retribution and Digital Extremes' Warframe will also be free-to-play outside of PlayStation Plus, according to Yoshida.
Discuss:
What do you think about the PlayStation 4's requirement of PlayStation Plus membership for online gaming? How do you feel about PlayStation Plus in general? Let us know in the comments below.
[Via Polygon]