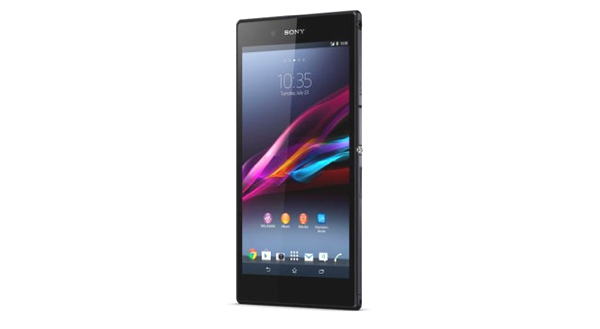 As expected, Sony today unveiled the Xperia Z Ultra, a smartphone/tablet hybrid which is squarely aimed at taking on the Samsung Galaxy Note series. The massive, yet extremely thin and light device packs a monstrous 6.4-inch display with a 1080p resolution versus competitor units which traditionally offer a 720p display. With a near tablet sized screen, the Xperia Z Ultra is also powered by a tablet like processor which has the unit running on Qualcomm's latest 2.2GHz quad-core Snapdragon 800, with 2GB RAM, 16GB internal memory, and 4G LTE connectivity. After the jump, we break down the Xperia Z Ultra even further.
The most prolific feature of the Sony Xperia Z Ultra is its massive 6.4-inch 1080p (1920 x 1080) display. Helping drive all the pixels is Sony's Triluminos display which was rolled out during CES and is aimed at offering richer and wider colors. To help bring further clarity to your videos, Sony's X-Reality for mobile technology will help drive your videos, be it from YouTube or movies downloaded Video Unlimited. For those who like to read in the pool or have butter fingers near the toilet bowl, you'll be happy to know that the entire unit follows in the footsteps of the Xperia Z and offers a waterproof body. Finally, helping the screen last for more than a few short hours is a 3,000mAh which is nearly double of traditional smartphones.
With a such screen, you'll probably want to pack your Xperia Z Ultra with lots of pictures and video and that's where the internal 16GB memory comes into play though only 11GB of it is accessible to users. For those looking for more memory, you can expand your allocated space with an additional 64GB, thanks to the built in microSD slot. In addition to the 4G LTE, other note worthy specs include a 8-megapixel Exmor RS sensor which lacks flash and a front-facing 2-megapixel camera. Android 4.2 Jelly Bean will also be on each unit shipped.
All these specs, including that ever so large display and huge battery come with little added weight to would be owners. The Sony Xperia Z Ultra weighs in at just 212 grams at 6.5mm uniform thickness. In comparison, the Samsung Galaxy Note 2 is 9mm thick with a smaller, 3,100mAh battery pack. Another unique feature of the Xperia Z Ultra includes a custom hand recognition software which allows for the use of any graphite pencil, capacitive stylus or metal pen with tip diameter of over 1mm.
The Xperia Z Ultra is expected to be launched in Q3 2013 and will be available in black, white, and purple. No price point or carrier support has been announced yet but you can expect that we'll have plenty more news for you as more info trickles out.
Discuss:
Are you impressed by the Sony Xperia Z Ultra?