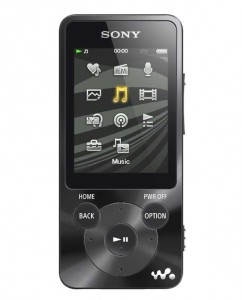 The MP3 player market race is heating up, if this was 2005. None the less, Sony feels like it's time to update their Walkman line with two new E-series models. Choosing to keep things simple, the entry level E380 offers a 1.77-inch display which can be manipulated with the scroll wheel like button beneath it. While not a lot is new this time around, battery life has been greatly improved to 30 hours of continues music playback from the internal 8GB drive with no expandable memory option. Music should also sound better than ever due to its five-band EQ which provides technologies like Clear Bass and Clear Stereo. Despite a design difference, it should be noted that the E-series is designed to compete with the iPod Nano line and not the iPod Touch line which offers access to the App Store and is far more feature rich.
Then there is the E580 for those still seeking a simple MP3 player but might be wanting something more than what the E380 offers. The E580 does mostly what its smaller sibling does but on a larger scale. The screen size has been expanded two 2-inches while the internal memory is doubles to 16GB. Because of the larger dimensions, battery life is also dramatically improved with 77 hours of continues music playback. To ensure even a better music experience, the E580 offers additional music enhancing technologies like DSEE (Digital Sound Enhancement Engine), which attempts to restore  high frequencies lost to audio compression with supports for both Apple Lossless and FLAC audio files. Sony is also throwing in a pair of noise canceling headphones.
Come late July, both models should be available from retailers in Europe. No price has been announced yet though a £69 and £109 price tag is what we're expecting.
Discuss:
Do you think there is still a market for MP3 players like the Walkman?
[showhide]
Listen for longer with new E Series Walkman® video MP3 players
10 July 2013
Sparkling sound, must-have looks and up to 77 hours battery life (E580)
Enjoy pure, rich Walkman® sound with powerful bass
Easy transfers from your PC music library or iTunes
Don't stop the music: keep listening for longer to your favourite sounds with the new Walkman® E580 and E380 from Sony.
Slipping easily into a pocket or bag, Walkman® E Series keeps you entertained with extra-generous battery life and powerful, silk-smooth sound you'd expect from Sony.
Both new video MP3 players bring out the very best from your music collection. Whatever your tastes, Clear Audio technologies by Sony assure richly-detailed sound with powerful bass, crystalline highs and less leakage between stereo channels.
Filling Walkman® with your music collection is easy. Just drag and drop songs, photos, videos, podcasts and playlists (non-DRM content only) from Windows® Explorer or your iTunes library.
Walkman® E580 with digital noise cancelling
Giving up to 77 hours play time from a single battery charge, the elegant new Walkman® E580 is your perfect partner for holidays, fun-filled weekends away or the daily commute.
Experience rich, high quality sound that's the signature of Walkman®. Switch on ClearAudio+ mode and enjoy your music just the way it's meant to be heard, with clear stereo, crystal-clear highs and powerful undistorted bass. There's a full range of Sony audio technologies to enhance your listening, including Clear Bass, Clear Stereo and Clear Phase. DSEE (Digital Sound Enhancement Engine) restores those subtle high frequency details that get lost when you're listening to heavily-compressed digital music files. Unique to Sony, VPT (Virtualphones Technology) adds an extra dimension to your listening with the authentic ambience of a studio, club or arena.
Slip in the supplied in-ear phones and let powerful digital noise cancelling cut intrusive background sounds by up to 98%. Whether you're flying, commuting by bus or train – or even working in the office – Walkman® E580 immerses you in a world of blissfully uninterrupted audio.
For the first time, E Series Walkman® now lets you enjoy music files in the popular FLAC format, widening your listening options even further.
Fabulous Walkman® sound is matched by equally desirable looks, with a slim, refined new aluminium body that adds an extra wow factor to your listening.
Walkman® E380
Colourful, compact Walkman® E380 Series is an introduction to legendary Walkman® sound for younger music lovers and students.
Get the best from your music collection with Clear Bass for a satisfying, distortion-free bottom end and Clear Stereo that keeps left/right channels cleanly separated. Dynamic Normaliser reduces sudden unexpected jumps in volume between tracks when you're listening in shuffle mode. There's also a 5-band equaliser with presets and custom settings to fine-tune sound according to your tastes.
View photos and videos on the clear, bright LCD screen or listen to FM radio stations. With up to 30 hours music playback from a single charge, there's plenty of battery stamina to keep you entertained on lengthy journeys.
The new Walkman® NWZ-E580 and NWZ-E380 video MP3 players from Sony are available in Europe from July.
[/showhide]