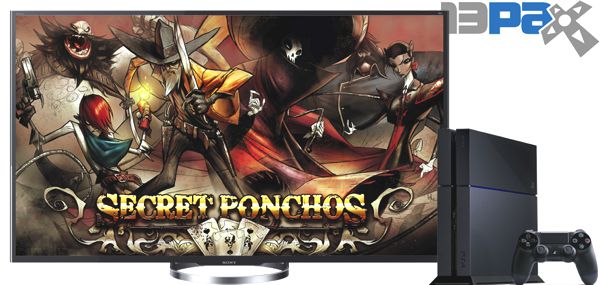 With a team called Switchblade Monkeys, you have to imagine that they're bringing something unique along for the ride. Secret Ponchos is certainly that, and president and creative director Yousuf Mapara was kind enough to take some time at PAX to tell me a little about their start developing the game for PS3, how they found themselves on PlayStation 4, and why it's unlike just about any other top-down shooter you've played before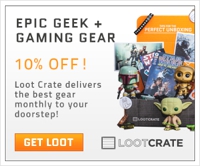 Secret Ponchos is a spaghetti Western top-down shooter that takes its inspiration, surprisingly enough, from fighting games rather than MOBAs [multiplayer online battle arenas].  "We would always play Soulcalibur," explained Mapara, "and we'd turn off the music because we'd get sick of it, and turn on our own music. I had a bunch of spaghetti Western music, and there was this weird chemistry between the music and what was happening that just seemed really cool." The decision to do a top down shooter that is, at its heart, a fighting game wasn't necessarily their plan from the get-go. "We came up with an art and a theme, and we let that inspire the game. I think that's why we came up with a game that plays so different from other games, because it's not derivative of anything."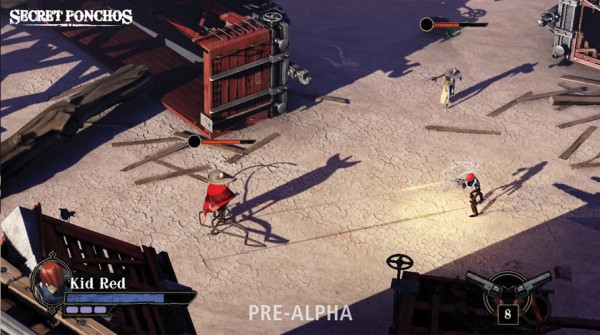 Production on Secret Ponchos actually began in 2010, and was planned for a release on PlayStation 3 through the PlayStation Network. Mapara was thankful for Sony's early involvement, saying that "they gave us enough confidence that we could risk our own time and money on the game." But as development continued, and time and money became more of a factor, the team had to make a decision on how they would finally get their product out. "We were starting to run out of money for things like dev kits, and so we took the last of our money and said we're gonna show the game at PAX [East]." Just as with the team from Supergiant Games and Transistor, the Sony third party relations team–led by Adam Boyes and Brian Silva–came by Switchblade's booth and made them an offer they couldn't refuse.
"They came by our booth and we didn't know who they were, they sat and for about twenty minutes they played it and watched us play it and introduced themselves." Mapara related. "'Hi, we're from Sony, we like this, how can we get it on PS4?' And I said 'We can't do that, we don't have money for that.' They said 'No it's okay, we'll send you a dev kit, what are your hurdles?'" And thus, another game finds its way to the PlayStation 4 ecosystem–and it really is very different from the conventional shooter. "A lot people need something new," said Mapara. "They've been playing team shooters and they're so formulaic." Secret Ponchos is anything but that.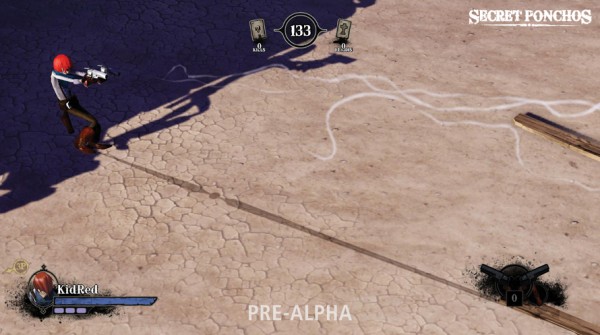 At their booth, Yousuf and the team were showing off the two-vs.-two split-screen co-op mode, which he described as a very fast paced, frantic style of play. Settling into the match, you choose a character–I chose Kid Red, a faster, closer-range fighter whose six shooters won't do much from a distance but are devastating if you get in the thick of it. Our arena was a moonlit homestead, replete with cattle troughs, tumbleweeds, and enough room to blast away at one another to your heart's content. Using the right stick to aim and the R2 trigger to fire became a snap, and placing or throwing bombs with the alternate trigger helped keep opponents wary of your next moves. Mapara revealed that there were a number of game modes that weren't on display at our preview, including anywhere from one-on-one duels to eight-player free-for-alls, and maps that will include classic Western settings like dusty graveyards, a saloon, and a mine shaft.
The guys and gals at Switchblade Monkeys may have started out making a PS3 game, but look for their unique take on the action shooter genre to come to PlayStation 4 sometime after launch. Yousuf and the team wouldn't say when Secret Ponchos will be making its console exclusive debut on the PS4, but don't forget this: at E3, the game was announced as one of three independent titles that will be part of the PS4′s Instant Game Collection for PlayStation Plus–along with Klei's Don't Starve and Outlast from Red Barrels. When we have more information on the release of Secret Ponchos, you can be sure you'll find it here on SonyRumors.