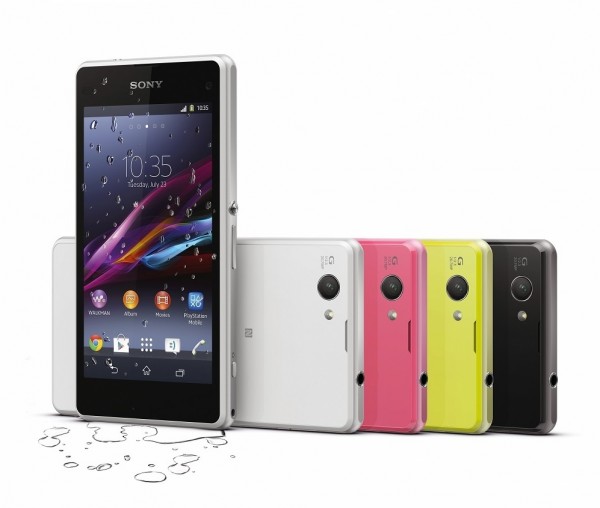 News at last! We finally got to see what the Xperia 'Amami' is, as Sony unveiled a mini version of the Z1 flagship at CES named the Xperia Z1 Compact. Details of this mysterious 'mini' version have been leaking for a number of weeks. The Xperia Z1 Compact is a glossy, stunning powerhouse in a more petite form factor of only 127 x 64.9 x 9.5 mm.
Perhaps even more surprising than the Z1 Compact was Sony's committment to the US market, presenting a variant of the Z1 flagship known as the Z1S, exclusive to T-Mobile due and is due in the US later this month.
Read on for the full specs, dates and lesser known features…
Update – CEO Kaz Hirai has indicated a greater investment in the US in 2014, read here.
Xperia Z1 Compact: mini but powerful
Did you always want the full power and feature-set of a flagship but in a more manageable form factor? Enter: Sony Xperia Compact.
Many of us like the idea of having the full power and numerous features of the king of the smartphone family, but aren't so thrilled about the size. This model seeks to address that problem, offering everything that you've always wanted but in a size that is less burdensome.
One aspect of this model that will be closely watched is the display. User comparisons have been showing that the Japanese model of the Z1 Compact appears to have a superior display to the Z1 flagship.
Xperia Z1 Compact – the world's best camera in a compact smartphone
So exactly what slick feature set is this model carrying?
Key features
4.3

"

TRILUMINOS™ HD Display at 1280×720 pixels
Qualcomm® Snapdragon™ 800 processor with 2.2 GHz quad-core CPU and 4G LTE
RAM: 2GB, 16GB internal memory
20.7 megapixel camera with Sony Exmor RS image sensor, 2 MP 1080p front-facing camera
Sony Exmor RS for mobile image sensor
X-Reality™ for mobile is an intelligent super resolution technology
Sony Mobile BRAVIA Engine 2
HDR for both picture/film, 1080p video recording
Up to 64GB SD support
Dust-resistant and waterproof (IP55 & IP58)
Four colours: white, lime, black, pink
127 x 64.9 x 9.5 mm weighting 137 grams
2300 mAh minimum
Feeling cold outside?
We can't help but notice that the details on Sony's product website lists Glove Mode for this device. This neat little feature appeared in the 2012 fleet with the Xperia Sola followed by the Xperia SP. It uses extra sensors behind the screen to allow navigation using gloves. Fans of this used it to operate the phone in winter, outside, with gloves on. Take a peek at the Glove Mode feature on the Z1 f below:

Sony announces Z1S Coming to T-Mobile in the US
There was other news from Sony, this time about the US market. Many Xperia fans in the US were unhappy to hear last October that Sony gave indications of a smaller US market presence in the future. Would this mean fewer phones released or even an exit from the market?
Instead, Sony announced at CES that the Xperia Z1S is coming to the market. Even more surprising, is that it is now coming in less than two weeks! Gone are the days of a quick announcement by Sony followed by months of news-free waiting.
The Z1S is essentially the Z1 flagship that was released in 2013, but perhaps there could be some minor changes. We know that the Xperia Z1 Compact was modified slightly in dimensions from the original Japanese version.
Beginning today, consumers can pre-register to be amongst the first to order the device, with an online pre-sale kicking off 13th January and nationwide availability in T-Mobile stores starting 22nd January.
It won't be long now until some of our users can let us know what they think about this elegant trailblazer! You can check out the full specs on the Sony page here.
Discuss:
Does the Xperia Z1 Compact live up to the pre-CES hype? Will you get a Z1S on T-Mobile?