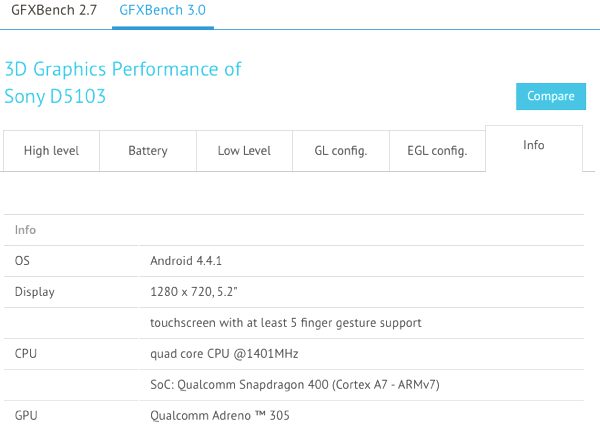 Last week, we brought you leaked specs for the Sony Xperia D5103 which features a 1.4GHz quad-core processor and Adreno 305 graphics. Specifically, it would be powered by a Qualcomm Snapdragon 400 MSM8226 which will drive the 720 x 1280 pixels display. Following that, another leak pointed towards a new model for Sony, the Xperia G, a mid-range Android smartphone with  a dual-core Snapdragon processor, 1GB RAM and a 8-megapixel rear camera with LED flash. At the time, it was believed that these were not two different phones and in fact, one in the same.
Now, a new set of leaks have emerged, baring the Xperia D5103 codename with one big difference, a 5.2-inch display, versus the previously believed 4.8-inch display. Is Sony building a phone with two different display options?
Thanks to a new set of results from the GFXBench benchmark, we've come to learn that the Sony Xperia D5103 will offer a 8-megapixel rear camera and a front facing 1.3-megapixel camera. Add an LED flash and the specs bare a uncanny resemblance to the Xperia G. The Xperia D5103 also shares the same rumored Qualcomm Snapdragon 400 MSM8226 chipset with 1GM RAM and 8GB internal memory which means that these two phones are indeed the same though it's worth pointing out that some reports pint to a dual-core processor while others like this most recent one point towards a quad-core processor.
What makes the whole situation odd is that the first benchmark pointed towards a 4.8-inch display while the latest one points towards a 5.2-inch screen. Why the discrepancy? Sony like all other manufactures creates several prototype models and tests them against one and other to see which offers the best take on the companies vision for the product. Furthermore, Sony has famously released "mini" versions of their products like the Xperia Z1 Compact which for all intents and purposes is the Xperia Z1, with just a smaller screen. That could also be the reason we've seen the same 1.4MHz processor in a dual and quad-core form.
Both explanations can explain why we've seen to similar yet slightly different versions of the Sony Xperia D5103 which will likely be released under the Sony Xperia G name. With Sony teasing "something extraordinary is coming," we'll likely get the answers soon.
Discuss:
Do you prefer to see a mid-range Android smartphone with a 4.8-inch display or a 5.2-inch from Sony?