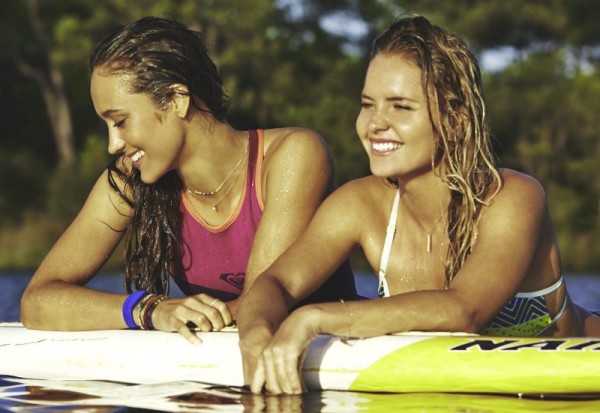 Just in time for the holiday shopping rush, Sony has unveiled a new collaboration with Roxy, the well known women's outdoor sports lifestyle brand. Dubbed as SmartBand with Roxy, the latest wearable includes all the basic functions you'd expect from devices of this sort like your step count, number of stairs climbed, and typical calories burned. The Sony SmartBand, however, has a few tricks up its sleeve, hence why Sony prefers the term "life tracker." Beyond the basic ability to track your movement in a waterproof design and set alarms, the SmartBand also allows you to play, pause, and skip through your music and even act as a camera remote on your Android device. Connecting the Sony SmartBand is also easy thanks to the built-in NFC.
More details after the jump.
Jeanna Kimbre, Director; Creative Product Design at Sony Mobile Communications:
Fashion and technology both play integral parts in our lives, and we've finally reached a tipping point where the lines are blurring – wearable technology is the natural bridge between these two converging worlds. SmartBand with ROXY is a result of this exploration, the latest addition to our SmartWear range – wearable technology that offers choice, whatever your style, taste or personality.
Featuring everything found on the original SmartBand, this latest iteration with Roxy is a limited edition model (though I wouldn't worry about supplies running out) with a slightly different design that should appeal to fans of Roxy. Available in Cobalt Blue, the Sony SmartBand with Roxy is available for purchase starting today on Sony's online store. According to Sony, the SmartBand with Roxy provides a 5 day battery life, making it a device that can be worn 24/7. The SmartBand also offers a waterproof housing that can last for  for 30 minutes (rated IP58) at 3 meters depth.
For those interested, I'd recommend reading our overview of the Sony SmartBand with LifeLog, the companion app that truly sets the SmartBand apart from other fitness trackers. Sony has yet to mention an MSRP, though all indications point to $99.
Discuss:
Does the Sony SmartBand with Roxy interest you or do you prefer the original design?
[Via Sony]