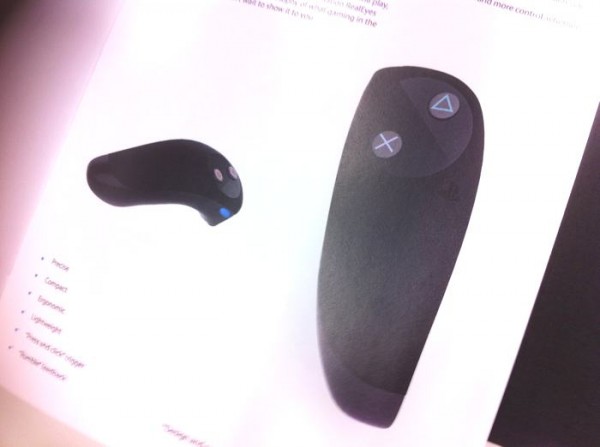 Just days before E3, the PlayStation Move 2 controller for Morpheus, the VR headset from Sony for PlayStation 4, has been leaked.
More pics and info after the jump.
(updated)
The information reads
PlayStation RealEyes + PlayStation Move 2 (Prototype)
Put yourself at the center of ____ worlds by slipping on a visor-style, head-mounted display, currently in development by Sony Computer Entertainment. Get other players involved ____ Morpheus creates two sets of images: one for the headset and one for a TV, so everyone can join in. Hear details above, below and around you with stunning ____ to 3D audio technology.

PlayStation RealEye and Move 2 will ____ together a nonpareil experience. Reflections, focus, stamina, is what you're going to need. Gaming is changing forever.
You'll notice due to the image we have, we couldn't make out all the words. Equally, some parts of the wording seem rough as if it were a direct translation which is not always clear. From the wording, it also seems to indicate that we might see a new PlayStation Eye successor. The wording also seems to hint that you'll be able to play games with a friend with one putting on Morpheus and the other playing on the TV screen.
Update:
Of course we would have a server meltdown the day of this leak. Thanks for your patience everybody. Because of that, here is one more picture: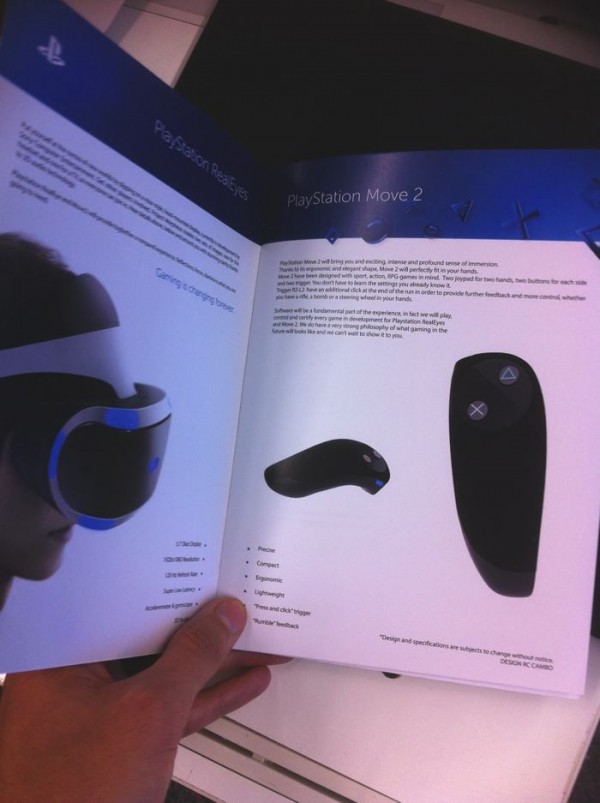 Update 2:
Obviously the main E3 press conference has come and gone and we've yet to see the PlayStation Move 2. Unlike Microsoft which talked in a bit more detail about Hololens (though we don't know a lot), Sony only briefly mentioned Morpheus, adding that they have several games they are developing and that you'll be able to play with friends which our leak above confirmed as well. With Morpheus still nearly a year away from release, the above leaks could still hold true as there is a lot we still don't know, including how you will navigate the VR world. Keep in mind that prior and post E3, developers hold many private events as they're all already gathered in a single location which makes unveiling of new hardware and software easier to one and other.
While the images could prove to be fake, I still believe them to be real and that the only mistake was that they would be shown to audiences during E3 where instead, Sony was planning to show it to its development community with a public unveiling likely later this year.
Update 3:
It's clear by now that this rumor didn't pan out. It's hard to say if there was ever merit to it or not but please keep in mind that until we see otherwise, Sony has yet to announce an update to PlayStation Move.
Discuss:
Would you be willing to give the PlayStation Move 2 a try?
Thanks to our anonymous tipster!