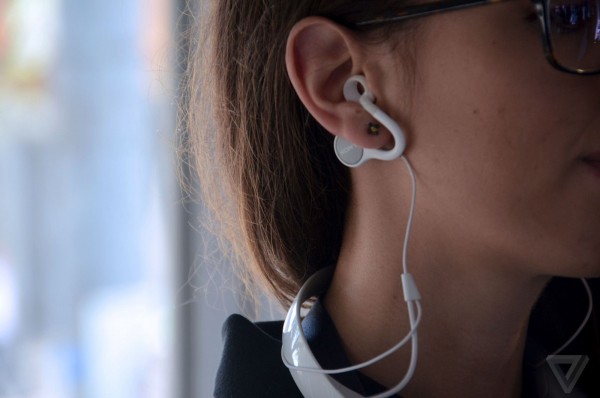 Back in early March, Sony unveiled their US-based Future Lab Program, which has been tasked with creating prototypes in a fairly open manner in order to gauge consumer interest. For their first product, Sony showed off their concept N headphones. Nick Statt writing for The Verge:
Codenamed Concept N, the Bluetooth device takes the design of those wacky-looking neck-worn headphones and packs in multi-directional speakers so you can listen to music without buds or over-the-ear pads
So why is Sony investing time and money into a futuristic headphone? The answer likely lies in where they see the global trend going. As people shift their living habits towards more populated cities like San Francisco, New York, Berlin, and Tokyo, they've also shifted their commuting habits towards increased usage of public transportation, biking, and other services. With the sharing economy accelerating, especially in large cities, people are increasingly traveling in more visible ways where you can't simply close your car doors and blast music.
The idea behind N is to create a system for listening while trying to retain background noise for when you're wandering about outside or riding your bike. The device also comes with an accompanying pair of cone-shaped ear pieces that communicate with the neckband, in the event you want a more traditional headphone-like experience. The buds, with holes punched through the middle, don't block outside noises, so you're still able to, say, hold a conversation while listening to music
More after the jump.
First displayed at SXSW, Sony is once again ready to show off their concept N headphones while doing a deeper dive in its software for developers. From Sony:
Are you a developer? If so, join us at the Wearable World Congress on May 11th and 12th, in Santa Clara, CA. You'll have the opportunity to see the first prototype of our concept "N" and a preview of our Software Development Kit, which helps you create content for the Personalized Radio Service that's integrated into concept "N".
You can only attend this event with a free exhibition ticket.
We look forward to meeting you and getting your feedback to help evolve our prototype concepts and SDK.
Developers interested in attending can get a free ticket here.
Discuss:
What are your thoughts on the concept N headphones?