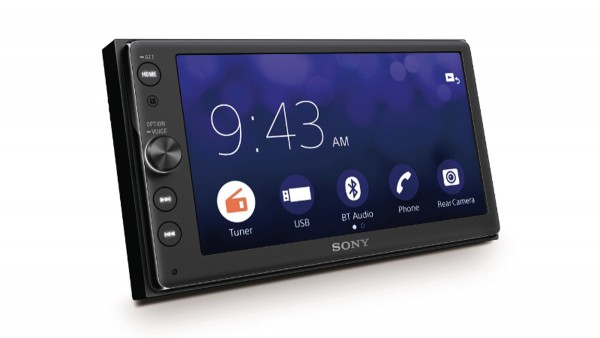 Earlier this morning and out of left field, Sony unveiled their latest navigation system, the XAV-AX100. As Mitchel Broussard writes for MacRumors, Sony touts their new nav system
as offering "everything you need" for long car journeys, including smartphone connectivity, a high-quality sound system, and voice command features.
Broussard continues:
Thanks to the inclusion of CarPlay, Apple's in-car software platform, users with Sony's new system installed can access Apple Maps, Apple Music, make phone calls, send text messages, and control various functions with the help of Siri.
As for Android Auto, that's also a go, but functionality of the system is more limited to control of music, maps and more, whatever that means. Perhaps most striking to me about the unit is how simple and clean it looks. Sony has taken away most of the buttons that usually spew over aftermarket nav systems and has instead given us a big 6.4-inch touchscreen with the mindset that in all reality, it will mostly be controlled via voice by Siri.
As somebody who has CarPlay in their car, I can reaffirm that once you get used to have all that functionality with just a single button, the idea of playing around with buttons on a system will seem archaic. At the same time, Sony has made the wise decision of keeping some physical buttons like the volume knob, something I loathe about riding in Teslas where everything is touchscreen. Call me old fashioned but there is something nice about being able to literally turn the volume nob up or down as you're driving, though most modern cars will likely also have that built onto the steering wheel.
According to Sony:
High power sound comes full throttle with the XAV-AX100 in-car audio system. 55 watts x 4 Dynamic Reality Amp 2 and EXTRA BASS™ low boost circuitry overcome engine noise and reproduce clear sound at any volume level with deep and punchy bass. The 10-band graphic equalizer gives an astonishing variety of sound, perfectly complementing EXTRA BASS™ for an enjoyable drive. 3-pre out connectivity allows system expandability to connect external amplifiers with a wide range of speaker connections, allowing sound enthusiasts to build their own bespoke system.

The unique Sony technology in the Dynamic Stage Organizer (DSO) compliments the XAV-AX100 features, overcoming the inherent acoustic disadvantage of front-door mounted, full-range speakers which can sound muddy or unclear. The DSO adjusts the signal creating the illusion of dash-mounted virtual speakers to provide an ideal, high quality sound experience for the journey.
For those interested, the XAV-AX100 will launch in late November in North America for $499.99.
Discuss:
What do you think about Sony's new nav system and have you used either Apple CarPlay or Android Auto before?