When a company like Sony takes to stage to announce a product like the PS4 Pro, it's quite easy to take everything presented at face value and deduce from that a certain set of opinions based on the product. From there, you can generally leave it to the internet to run with it and create the mockery that it's so good at doing. Look no further than earlier on September 7th when Apple took to stage to announce the iPhone 7 which lacks a headphone jack.
Now mind you that Apple isn't the first to do this with the Moto Z already shipping without said jack, and that not only does iPhone 7 come with Lightning wired headphones, but an adaptor to plug in any regular headphone in as well. But none of that matters, nor does it matter that in two years time, every phone will lack a headphone jack. Instead, the narrative is that iPhone 7 doesn't support wired headphones.
Just a few short hours later, Sony found itself in a similar position with all headlines pointing to the lack of 4K Blu-ray drive on the PS4 Pro and what a shame because it just doesn't matter.
Before I get too far, let me be clear. Would it have been nice to have a PS4 Pro with 4K Blu-ray? Of course it would. It would also be nice to have a PS4 Pro with dual HDMI outputs, Mini Display Port out, 4 USB 3.0, and a single USB-C for good measure as well. That version of the PS4 Pro would have also cost $949 and the story then wouldn't be around all the amazing features it offers, but the ludicrous price point of the console and that Sony was going back to their PS3 era mentality.
Except that they're not and that's why the 4K Blu-ray drive is lacking. The PS3, when launched, was all about now. It was about what Sony needed to achieve (the success of Blu-ray) and everything else would be patched in later like 3D functionality and a proper PlayStation Store with robust multi-player functionalities. Eventually all those features would come to PS3 via firmware updates but it was easy to tell that many of them were tacked on and not in line with the original vision of the console.
On the other hand, when PS4 launched, it had a clear focus – a gaming machine with robust online functionality from day one and it delivered on that promise. From there, Sony built the foundation to grow its offerings like additional streaming options and services like Remote Play and PS Vue.
With PS4 Pro, Sony is revisiting the same playbook. What should the PS4 Pro be really good at from day one? Delivering enhanced visuals for those with a 4K set and improved framrate for those with an HDTV. From there, the machine then has everything in order for Sony to execute future game plans.
Could part of that day one vision been a 4K Blu-ray drive? Sure, but it also could have been the difference between their $399 price point and $449 and this is the crux of it all – nobody cares about 4K Blu-ray. Yes, you, the reader of SRN and numerous other tech sites might care but we're the minority who exist in the hyper tech bubble.
As for most consumers, they're still going to Best Buy and sometimes buying a DVD and sometimes a Blu-ray and even then, they're really not. Chris Morris writing for Fortune:
There's certainly no denying physical media sales are declining in the U.S. Sales of DVDs and Blu-ray discs fell 12% in 2015 to $6.1 billion, according to the Digital Entertainment Group after an 11% drop in 2014.

Meanwhile, digital revenues rose 18% in 2015.
Perhaps let me ask it another way – in 2016, what are the number of hours you spent watching new content through a streaming service versus buying them on Blu-ray? If you've been tuning into Stranger Things, Daredevil, The Leftovers, Game of Thrones, and the other numerous shows that are available only on a streaming service, chances are that you're not even aware of how little time you spend using physical media.
But you'll then argue that Blu-ray movies and especially 4K Blu-ray movie quality cannot be matched by streaming services that compress the hell out of the image. You'd be right, technically, but the simple truth is that consumers don't care. What they want is ease of use with quality that's good enough and with the upconverstion engines in most new TVs and new streaming algorithms, streaming quality is beyond good enough.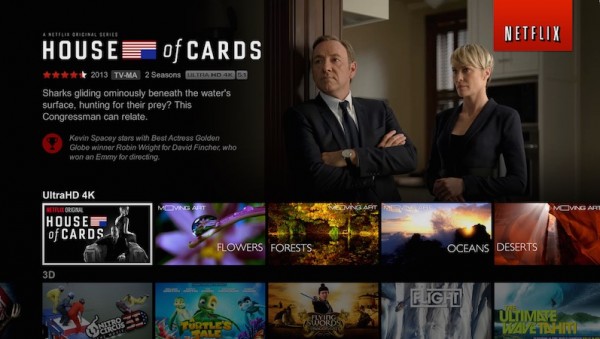 And if the quality is good enough, what's easier than clicking on an app and getting this selection:
Netflix – 4K HDR
A Series of Unfortunate Events
Bloodline
Chef's Table
Hibana
Knights of Sidonia
Marco Polo
Marvel's Daredevil
Marvel's Iron Fist
Marvel's Jessica Jones
Marvel's Luke Cage
Marvel's The Defenders
The Do-Over
The Ridiculous Six
Amazon – 4K HDR
Fury
Men in Black 3
Smurfs 2
After Earth
Pineapple Express
Chappie
The Amazing Spiderman 2
Salt
Hancock
Elysium
Transparent S1 & S2
Mozart in the Jungle S1 & S2
Man in the High Castle
Bosch S1 & S2 (on 3/11)
Red Oaks
Mad Dogs
Casanova
Highston
Z
One Mississippi
Edge
The Patriot
Good Girls Revolt
Now good luck going to Best Buy or even Amazon to find a similar selection of 4K Blu-ray movies – and when you do find a title you like, it will cost you on average $35. That's almost the monthly cost of Netflix, HBO, and Hulu combined. No one wants to pay that anymore and further truth be told, no one wants to deal with the hassle of keeping a library of discs somewhere when all they need to do is launch their account on any device and instantly have access to a plethora of films to view, including 4K HDR.
And just to further point out that this is where the market is going (and is already, to a degree), notice how every movie now becomes available as a digital download 2-3 weeks prior to its Blu-ray release.
When Sony was designing PS4 Pro, they had a choice to make. Include a 4K Blu-ray drive that in truth, would satisfy a very small part of the marketshare that's only going to shrink (let's be honest, physical media is not about have some resurgence) and in doing so, release a more expensive product that fewer people could afford. Or, they could release PS4 Pro which lacks a 4K Blu-ray drive but offers 4K streaming services and hit their desired price goal.
As it stands, PS4 Pro will ship a 4K Netflix app while an upgraded 4K capable YouTube app will come sometime later. As for Sony, you bet that they've already begun to build their own back catalog of 4K movies (seeing how the majority of 4K HDR movies through Amazon are from Sony Pictures) that will one day, with a flip of a switch, appear on the PlayStation Store.
Like Apple, Sony looked at the current landscape and built a device that's not only compelling and powerful for today, but one that sees where the future is going and decided to embrace it. Ironically, what's got both of them in 'hot water' is wireless.
Discuss:
Are you bothered by the lack of 4K Blu-ray on the PS4 Pro or do you think streaming is the future?