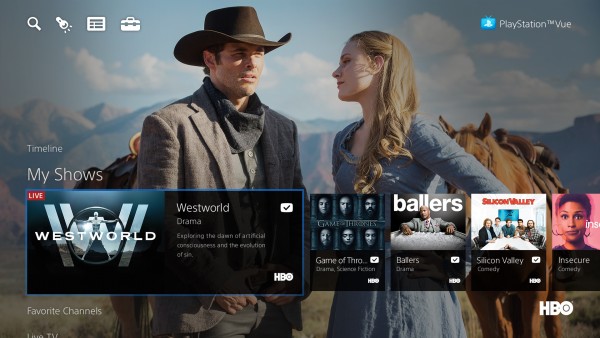 PlayStation Vue has just gained two important channels, HBO and Cinemax. Announced in early September, the new additions add to the plethora of other premium channels already available on PS Vue like Showtime. But perhaps the best part is that with PS Vue, you won't need to partake in some tier based channels in order to get any of their premium channels – instead each channel can be subscribed to individually. Dwayne (not The Rock) Benefield, Vice President, head of PlayStation Vue:
As we previously announced, you'll also have the option to subscribe to HBO and Cinemax as standalone channels via PlayStation Vue. HBO and Cinemax are available for $15 each per month. We're pleased to be the first internet-based pay-TV service to offer HBO and Cinemax's live programming as standalone offerings without a bundle subscription.

If you subscribe to HBO through PlayStation Vue using any of the available options, you'll get access to the live HBO feed through PlayStation Vue, as well as access to the HBO Now service on all supported devices at no extra charge. The HBO Now app is also launching today on PS4 and PS3.
As for standalone pricing (note the discounted pricing offered for PS+ users in the parenthesis):
HBO – $15
Showtime – $10.99 ($8.99)
Cinemax – $15
Machinema – $2.99 ($1.99)
Fox Soccer Plus – $14.99 ($12.99)
Epix – $13.99 ($11.49)
NFL Redzone – $39.99
Now all that remains is Starz which likely won't be long and PS Vue will have one of the most comprehensive TV offerings available. On a complete side note, for you HBO subscribers, tune into Westworld which will debuted on Sunday night. You won't be disappointed.
Discuss:
Do you already subscribe to HBO and/or Cinemax?
[Via PS Blog]