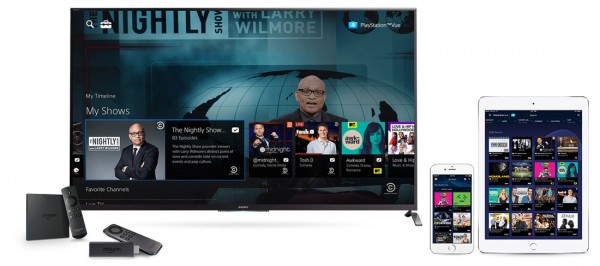 If you've got some bad news to dump, nothing beats a mega game like the World Series or a presidential election. While people are either joyously celebrating for their victors or caught up in the hurt of losing, they're too busy to notice recall (GoPro recalled their Karma drone) or notice a change coming to their streaming service of choice. According to Reuters, some changes are going to be coming to PlayStation Vue starting this Friday that could affect the usability of the platform, depending on what channels you tune in to.
Sony Corp's cloud-based TV service, PlayStation Vue, said on Tuesday it would drop all Viacom Inc channels, including Comedy Central, Spike and MTV, starting Nov. 11.

PlayStation Vue will add BBC America, NBA TV and broadcast stations from CBS and Fox, according to a blog post on Sony's PlayStation website.
According to Dwayne Benefield, the head of PlayStation Vue:
We have determined that removing the bundle of channels from Viacom is the best way for us to continue to offer the most compelling value to our fans.
Of course Benefield had to say something like that, much like Hilary Clinton had to give a concession speech that doesn't actually portray the reasons behind the outcome. Since the news broke yesterday, I've been talking to a few little birdies and they've all conveyed the same thing – that Viacom was asking for an exorbitant amount of money for the given channels which put Sony in a corner.
On one hand, they could eat the cost which would set the precedence for other networks to raise their prices and, in the end, could drive the service to unprofitability. Or, they could pass the costs on to users, something that they were also adamantly against. In the end, Sony likely picked the best option available for themselves and PS Vue users.
Discuss:
Does the loss of those channels make PS Vue less attractive for you or were they channels you never watched?