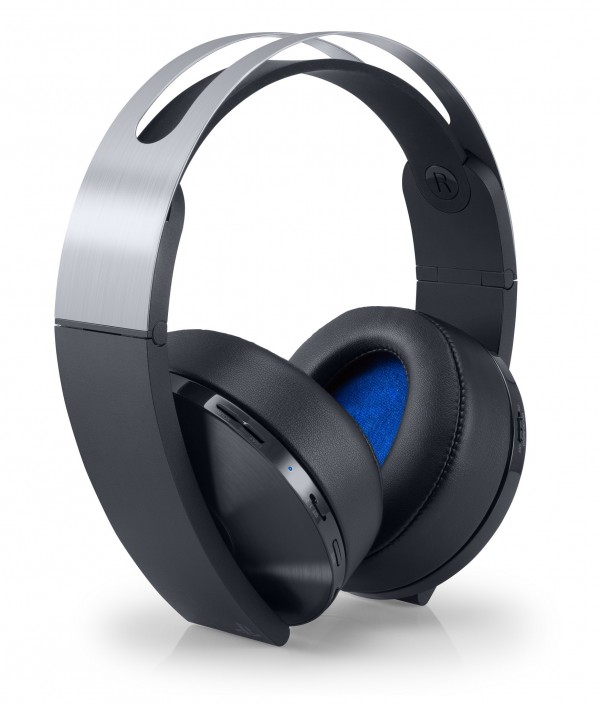 PlayStation already sells the well received and modestly priced Gold Wireless Headset. Coming in at just $99, the Gold series is a must own for anybody who is serious about gaming or seriously doesn't want to piss off their significant other when gaming late at night. Now Sony is following up with another addition to the family, the Platinum Wireless Headset.
Steve Schwartz,  Product Marketing Manager, Platforms Marketing at PlayStation writes:
I'm pleased to announce that our upcoming premium gaming headset, the Platinum Wireless Headset, will be available on January 12 for $159.99 (MSRP), $199.99 (CAD). The headset showcases enhanced, highly positional 7.1 virtual surround sound powered by PlayStation's proprietary 3D audio technology. Hidden noise-cancelling microphones provide crisp, clear communication without the need for a boom mic. The headset combines superior construction and design offering style, durability, and maximum comfort – especially for long gaming sessions. Platinum is compatible with PlayStation VR and mobile devices using the included 3.5mm audio cable.
Basically, as the name suggests, the Platinum headset does everything the Gold series does but better. When asked about how the new headset will fair against the Gold, Steve said:
Other than 3D audio there are other great features, larger 50mm drivers tuned for 3D audio, more advanced, noise-cancelling mics and improved battery life. In games with 7.1 virtual surround sound it also sounds better because we can leverage the horsepower of our 3D audio technology.
And for those who already are into the habit of using PlayStation's headsets, the Platinum is also fully compatible with the Headset Companion App which allows you to easily switch between different audio modes (Movies, Sports, FPS, Driving Sim, etc.) and game-specific audio customizations.
 At launch, Naughty Dog will be the first to incorporate 3D audio into a game with a patch for Uncharted 4: A Thief's End. A variety of upcoming games will support 3D audio including MLB The Show 17, Uncharted: The Lost Legacy, and Days Gone with more to come.

The team at Naughty Dog was excited to take advantage of this new technology to make Uncharted 4: A Thief's End sound better than ever.
As a big fan of the originals, this is definitely on the "to buy" list for me. It's just too bad and a little puzzling that Sony wasn't able to ship these for Christmas. How about you? See yourself buying one?