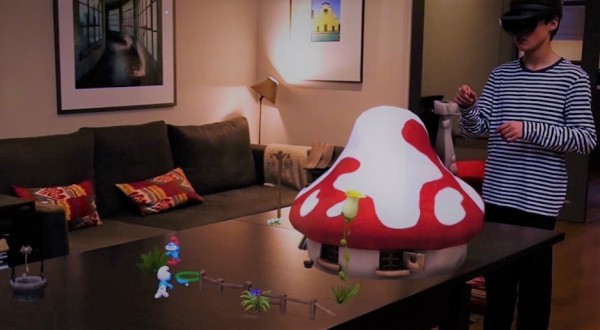 A bit of odd news to kick off your Monday morning. Kyle Melnick writes this for VR Scout:
the company has had to look to new platforms to extend their marketing reach even further. This apparently includes releasing an mixed reality Smurfs-themed children's experience for the HoloLens.

Developed as part of a partnership between media agency OMD, AOL advertising content creators Partner Studio and VR production company UNIT9
While Sony developing a game for HoloLens might appear strange at first, everything is not what it seems. Perhaps the most important part of this story is that it's not Sony Electronics or PlayStation that is pursuing this and instead, Sony Pictures, which has little to do with the other two divisions. As far as they're concerned, their mission is to solely create media and promote it so don't think of this as Sony itself getting its feet wet and testing content creation for other platforms.
However, there is something worth noting here – the rise of VR is helpful for all. If Sony Electronics or PlayStation was expressly helping to create content for Microsoft HoloLens, that move, no matter how successful, would do little to hurt PlayStation, namely PSVR.
As it stands, VR and AR are in their earliest days with us being far from a market victor – or leader, for that matter. The most important goal and challenge of any player in VR is to get consumers interested and as time goes on, inevitably, the technology will improve as the price point decreases.
In fact, the better a particular VR platform does, the better all other platforms will likely do, assuming they're comparably competitive. The only strange part about this tale instead is why Sony chose HoloLens. As Kyle notes:
Of course it's difficult to say how many children will actually get to experience this neat little game. After all, there is still no consumer version of the Microsoft HoloLens available to the public, meaning one would have to part with at least $3,000 for a Development Edition just to try it.
One can't help but think that there would have been much more return for them had they created a similar* type game for PSVR which is nearing 1 million units sold compared to a device that's barely available to anyone.
*I say similar because HoloLens is based on AR while PSVR is based on VR.