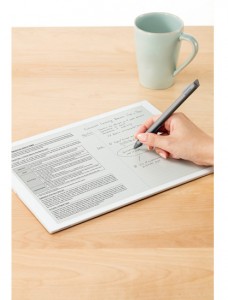 On the heels of unveiling the latest Digital Paper, a solution for professional who want to rid themselves of paper, Sony is also announcing a new joint venture. Via Yahoo! Finance:
Sony Semiconductor Solutions Corporation, a wholly-owned subsidiary of Japanese conglomerate Sony Corporation SNE recently announced a joint venture ("JV") with leading papermaking company E Ink Holdings (E Ink). Officially registered in Taiwan, this JV will focus on designing, manufacturing, selling, distributing and licensing products that use electronic paper displays.

Operations are expected to commence post regulatory approvals. The JV will integrate E Ink's development and manufacturing technology with Sony's product development and marketing expertise to create a new ePaper market. This will feature innovative electronic paper display products and systems.
Under this new venture, Sony will remain as the majority shareholder though it's unclear what Sony gains from this. As pure speculation, this new joint venture could give Sony access to patents and other various methods held by E Ink Holdings, which may have hindered their current efforts.
Other benefits could be access to facilities that produce E Ink in much larger volumes and in turn, help bring down the price of their products.
Sony and E Ink has been partners since 2004 when the former started selling Digital Paper leveraging on E Ink's electronic paper display technology.  In this arrangement, Sony Semiconductor Solutions and the subsidiaries of E Ink will remain the major shareholders of the venture, investing about 70% of the JV's shares. The residual share (30% of roughly $137.1 million of paid in capital) will be subscribed by venture capital companies scouting for budding startups.

Going forward, the JV will join forces with partner companies to create services and solutions for multiple business segments. The partners remain confident that this JV can revolutionize traditional work processes relating to documents and replace it with electronic paper displays in the future.
If Sony is able to bring the price of their E Ink Digital Paper down, it will be a huge win for the company as its current price point of $700 puts it right in line with iPad Pro which can do what the Digital Paper does and more. Now I understand there are battery life differences as well as display technology which makes one more soothing for long term use but on the other hand, that same money spent will take you a lot further with all the other functionalities offered by iPad Pro and other similar devices.
Now drop that price down to $499 or $399 and you have a sleek product that's far more attainable.