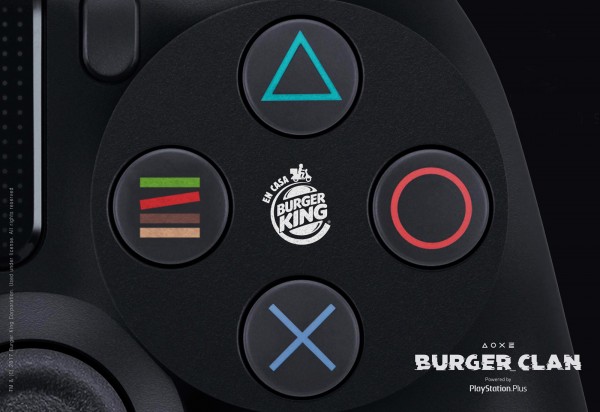 Here's a completely left field partnership for you: Burger King and PlayStation. Carly Regehr writes for Fansided:
Burger King is finally separating itself from the major game players of the fast food industry. The chain has formally announced that it will merge one of America's classic institution, a fast food restaurant, with an emerging market, eSports. As a result of these two unrelated entities, Burger King's so-called Burger Clan, the official name of the odd partnership, will have the responsibility of order taking through a PlayStation console.
So how does all of this work? Here's a video that… kind of explains it?
From Burger King:
Are you about to win a war or are you one goal left from winning the championship and you get hungry? Don´t stop playing! #BurgerClan is the first clan of gamers that infiltrate the best games on Playstation 4 to take your food orders while playing alongside them. Add your PSN profile to your Burger King Delivery Account at burgerclan.es, find your gamers and ask them for a Whopper and fries without putting down the controller! Order while playing with #BurgerClan.
Carly continues:
The purpose behind the Burger Clan is quite elementary: if you have a PlayStation, you can log into a Burger King portal and help others order food. In terms of the strength of BK's delivery system, it's not very developed. Availability varies widely, and some stores only allow deliveries within a few miles of the restaurant. Seeing as it functions as a dine-in restaurant, there is some progress to be made. If Burger Clan prospers, then the demand for delivery drivers will go up.
I'm still not sure I get it. Why don't they just develop a simplified app or web portal for PlayStation? Either way, this is stupid as hell.