With Google I/O concluding yesterday, it's safe to say what was announced at CES 2017 is still on track for Google Assistant coming to Android TV. Here is Raymond Wong from Mashable:
With an "OK Google" command, you can play shows, check the weather, search Google, control your smart home and more. And because Assistant is contextually aware, it can respond to follow-up queries without repeated "OK Google" prompts.

The limitation right now is you have to speak into a voice remote to activate Assistant, but in the future you'll simply talk directly to your TV. Though he wouldn't share specific details or partners, Prueter says Google's already working with companies to build far-field voice recognition technology right into TVs.
It's unclear when exactly Android O will arrive on Sony TVs, seeing how Nougat still hasn't rolled out to many units, but a late Fall/early Winter timeframe seems reasonable. Here is Wired with a bit more info:
Sony's sets already come with Android TV, but this year's models will be the first television sets with Google Assistant on board. The sets won't always be listening for that "OK Google" cue: You need to hit a button on the included remote for Assistant to register your queries, but you can also use a Google Home speaker to communicate with the TV without hitting a button.

If you're familiar with the way Assistant looks and sounds on a phone, a demo looked similar on Sony's big screens. You hit a button on the remote, ask it things, and Assistant's bubbly little bar appears on the bottom of the display. You'll be able to ask it general queries and control other devices in the Google Home universe, but the built-in Assistant will have a few TV-specific features. For example, you can change source inputs just by asking, launch apps on the TV, start playing a show just by asking for it, and adjust the volume and channel. Google Home can already interact with any TV with Chromecast capability built in, so you if you have one of those sets, you can order it around by barking at Google's smart speaker. But this level of integration on the Sony sets is much deeper.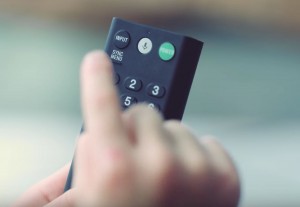 After using Siri on Apple TV, I can fully vouch that this is the way TV should be. We all have access to countless services from Netflix, HBO, Starz, Hulu, and so on, but we're not all TV junkies keeping up with who is airing what. Maybe you just really want to watch Sense8 or are in the mood for Westworld but have no clue which app to actually launch. With voice and search, all that goes away. As for the other stuff, I personally seldom ask Siri for weather or sports scores on Apple TV so your mileage with extra functions like that will likely vary, as well as things like changing inputs, but we'll see. It might be me, but if I'm going to grab the remote, press the mic button, and ask for an input change, I might as well just click the input button.
For me, the best part about voice, and in this case Google Assistant, has been finding content and as cable bundles break down and apps become where content lives (hello FXX with all The Simpsons episode you can handle!), voice is easily the best input method and it's great to see current and future Sony TVs tackle that. Now if Sony would only do something about their janky-ass remote.