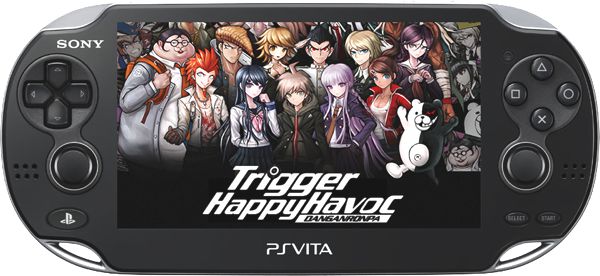 The first time I heard about the concept for the  Danganronpa: Trigger Happy Havoc, I was immediately intrigued. The game has elements of many other games including Persona 4, Ace Attorney, and Virtue's Last Reward. As a fan of all of these games, I was excited at the prospect of playing Danganronpa, especially on a portable console like the PS Vita.
In Danganronpa, the player controls Makoto Naegi who, along with 14 other students, was recently accepted into the highly elite high school Hope's Peak Academy. Hope's Peak only accepts students who are considered the best or "ultimate" in their respective field. Examples of some of the others students include: the Ultimate Baseball Star, the Ultimate Fan Fiction Creator, the Ultimate Fashionista, and the Ultimate Moral Compass. Makoto, on the other hand, does not have a specific talent or skill. Instead, he won a raffle and was accepted into the school as the winner making him the Ultimate Lucky Student. Everything quickly takes a turn for the worst as the students realize they have been trapped in the school by an evil remote-controlled teddy bear named Monokuma.
Is Danganronpa truly a mix of Persona 4, Ace Attorney, and Virtue's Last Reward and does it work? Keep reading and find out in our official review.