Yesterday, during Sony's PlayStation press conference at gamecom, Sony pulled the rug from underneath the press in the best way possible and announced a price drop for the PlayStation 3. The PS3, which till now has been selling at $299, can now be purchased for $249, effective immediately. This of course makes the PS3 160GB the most affordable that it has ever been while the bigger brother, 320GB unit which had previously gone for $349 has now dropped to $299. That's not all though; for a limited time, Sony will also produce a 320GB PlayStation 3 package which will include inFamous 2 and a 30-day PlayStation Plus membership for $299, which should be pretty popular this holiday season. So what does this mean for you, the gamers and media junkies out there? Quite a lot, actually.
With the PS3 being at its most affordable price point ever, this means that consumers can once again get the best Blu-ray player out in the market for a low price. Even though the PS3 is now 5 years old, it's still the unit to beat as Sony continues to pump new features and updates via their free system updates. Some highlights of the PS3's Blu-ray capabilities include:
Full 1080p
Full 1080p 3D Movies
DVD Upscaling
BD Live Functionality
LPCM 7.1ch, Dolby Digital, Dolby Digital Plus, Dolby TrueHD, DTS, DTS-HD, AACD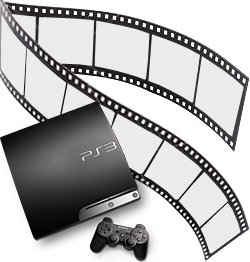 This alone puts the PS3 at the center stage of a home theater but there is a ton more for the media junkie in you. Sony knows that DVDs and Blu-ray films can bring only so muchto your home theater experience and that streaming is a big part of everybody's lives today. Because of this, the PS3 also features an array of streaming services from all the popular providers with unique apps, designed to give you the best experience possible. Which apps can be had for your streaming pleasure?
PlayStation Store (you can both buy and rent movies/tv shows which can also be transferred to the PSP or PS Vita)(2D and 3D movies)
Netflix
Hulu Plus
Vudoo (2D and 3D movies)
MLB.TV
NHL Game Center
NFL Sunday Ticket
BBC iPlayer (Europe)
LoveFilms (Europe)
Qriocity Movies (Coming Soon)
Qriocity Music Unlimited
If that's not enough for you, rumors even peg Best Buy and Amazon's streaming service for the PS3 at some point. For you server junkies, the PS3 can also access any home server in the household and stream your videos directly to your television. But if you're like me and just watched an Indiana Jones flick and now have an itching fever to live the life of Indy, then the PS3 again has your back with the biggest game exclusives ever. Just to give you an idea of what is in store for PS3 users, the following list will revolve around a 14-month time table.

Gran Turismo 5 (3D)
LittleBigPlanet 2 (3D, Move)
SOCOM 4 (3D, Move)
Killzone 3 (3D, Move)
MLB: The Show (3D, Move)
inFamous 2 (3D)
MotorStorm: Apocalypse (3D, Move)
Dead Nation
DC Universe Online
Resistance 3 (3D, Move)
Journey
Ratchet and Clank: All 4 One (3D, Move)
Uncharted 3 (3D)
Twisted Metal
With free online games and PlayStation Store access, PlayStation Home community, trophies, web browser (yes, it could be better but who knows what updates await us), digital camera support to display your 2D/3D photos, PlayStation Move, PSP and PS Vita compatibility, and more, it's easy to see why those who purchased the PS3 at $599 five years ago got an ever-expanding machine that has continued to offer them new features with the changing times while anybody who is getting a new unit for $249 is simply getting a bargain. So no matter if you are a gamer or a media junkie, the PS3 is the de facto machine that should be centered in your home theater room, bedroom or dorm room and with the next system update, who knows what Sony might add.
Update:
As soon as this article went out, Sony just announced a new partnership with DirecTV which will bring their NFL Sunday Ticket to the PS3.