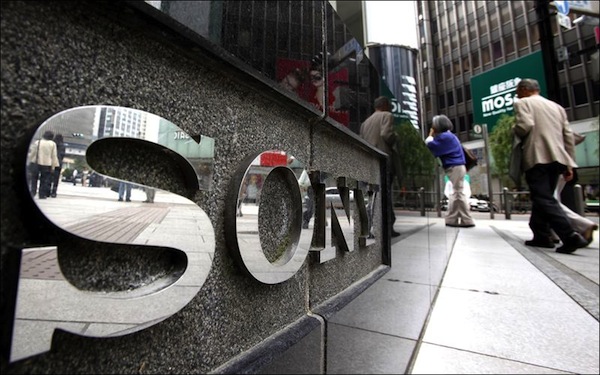 Way back in April, Sony announced that it was planning on cutting 10,000 employees from its global workforce in late 2012. The company whose been hit hard the last decade due to increased competition from Samsung and Apple has also seen its financials tank, thanks to its slumping LCD business. Sony hopes that the reduction in its work force will allow for a more streamlined operation.
Come March, the full reduction will have taken place with 2,000 job cuts alone coming from their main Japanese headquarter. The plant in Minokamo where Sony manufactures interchangeable lenses for digital SLR cameras, lens blocks, and mobile phones will be shut down entirely, resulting in 840 employees losing their jobs. Some bit of good news comes from the companies early retirement program which is designed to soften the blow and
"assist employees to secure new opportunities outside the Company,"
Sony is also getting out of the chemical product business, something most people weren't even aware of that Sony partook in. Sony sold that business in September. The total job cuts from Japan will tally between 3,000 to 4,000 while the rest will come from Sony's global workforce.
Of course, its been proven time and time again that you cannot cut your way out of a troubled company. Though I'm sure in Sony's case, there are many over lapping positions and divisions which need to be cut to help make the company more robust, their true savior will come in the form of creating compelling products with proper marketing that people will want to buy. In the end, even if Sony had 10 employees, with no compelling products, then its 10 employees too many.
Discuss:
What does Sony need to do to bounce back?
After the jump, your comments and the press release.
[showhide]
Update on Restructuring of Sony's Electronics Business Operations in Japan
Sony Corporation (
"
Sony
"
or
"
the Company
"
) today announced additional steps it is taking to accelerate structural reforms of its headquarters and electronics business operations in Japan, including consolidating certain manufacturing operations and expediting measures to reduce its headcount.Amidst a highly competitive business environment, Sony has been undertaking a series of measures to revitalize and grow its electronics business. As part of its mid-term strategic initiatives announced in April 2012, Sony identified resource optimization as one of the key initiatives for transforming its electronics business and Sony has since been progressively implementing various structural reform measures to optimize costs, streamline its overall organization, accelerate decision-making processes and establish firm foundations for sustainable future growth. In its prior corporate strategy announcement, Sony stated that through the combination of these structural reform measures and business portfolio realignment it expected to reduce headcount across the entire Sony Group, primarily in the electronics business, by approximately 10,000 in the fiscal year ending March 31, 2013 (
"
FY12
"
), including approximately 3,000 to 4,000 in Japan.
Among the measures undertaken to date are integration and consolidation of sales offices and resource optimization in sales and marketing organizations, primarily in Japan, the U.S. and Europe. Within Sony's headquarters and support operations, certain functions have been integrated and organizational structures have been streamlined, while the Company has conducted a thorough review of work content and work-flow process to ensure greater operational efficiency across these operations. Furthermore, on July 1, 2012, Sony established Sony Corporate Services (Japan) Corp., which is working to build a horizontal platform that incorporates support operations from across Sony's consolidated subsidiaries in Japan.
As the proportion of Sony's finished products being produced at its overseas manufacturing sites and by external ODM/OEM vendors continues to increase, Sony has also been taking measures, such as site consolidation, to better reflect the current scale of production, as well as steps to further enhance operational efficiency.
The new restructuring measures announced today, relating to Sony's headquarters and electronics business operations in Japan are as follows.
Consolidation of Manufacturing Sites
In order to enhance the efficiency of Sony's manufacturing operations relating to its digital imaging business, the manufacture of interchangeable lenses and lens blocks currently being conducted at Sony EMCS Corp.'s Minokamo Site (located in Minokamo, Gifu Prefecture) will be absorbed by EMCS Corp.'s Kohda Site (located in Kohda, Aichi Prefecture). As Sony concentrates its mobile phone business on the area of smartphones, the operations currently being carried out at the Minokamo Site relating to mobile phones will be partially discontinued and partially transferred to Sony EMCS Corp.'s Kisarazu Site. As a result of this realignment, the Minokamo Site is scheduled to close at the end of March 2013.[Overview of Minokamo Site]
Company Name: Minokamo Site, Sony EMCS Corp.
Address: 9-15-22 Hongo, Minokamo, Gifu, Japan 505-8510
Site Area: 56,713m2 / Total Floor Area: 49,913m2
Number of employees: 840 (direct employment)
Principle Operations: Manufacture of interchangeable lenses for digital SLR cameras, lens blocks and mobile phones. Customer service operations for mobile phone business in Japan
Headcount reduction resulting from optimization of organizational structure and realignment of business portfolio
In order to optimize personnel structure and assist employees to secure new opportunities outside the Company, early retirement programs will be implemented at Sony Corporation, Sony EMCS Corp. and other major consolidated electronics subsidiaries in Japan. These measures are expected to result in headcount reduction of approximately 2,000 employees by the end of FY12, with approximately half of the reductions (1,000 employees) expected to be in support functions, including the headquarters of Sony.In particular, at Sony's headquarters operations where organizational integration and optimization have been actively implemented, a headcount reduction of approximately 20% is expected by the end of the current fiscal year through the introduction of an early retirement program and resource shifts. Headcount within the Home Entertainment and Sound Business Group, including the TV business group which has been implementing a series of ongoing profitability improvement measures, is expected to be reduced by approximately 20% by the end of October 2012 due to the transfer of employees outside the Company, together with a resource shift in personnel to other operations within the Sony Group.
Following the sale of the chemical products businesses completed in late September 2012, approximately 1,800 employees have been transferred outside the Sony Group (as previously announced).
Sony is evaluating the actual impact of headcount reduction and the restructuring charges resulting from these measures on Sony's FY12 consolidated results; however, no material impact is anticipated on Sony's FY12 consolidated results forecast, as these measures are included in the 10,000 headcount reduction and 75 billion yen in restructuring charges Sony previously announced for FY12. Furthermore, as a result of the restructuring measures implemented during FY12, including those announced today, Sony anticipates an annual reduction in fixed costs of approximately 30 billion yen from the fiscal year ending March 31, 2014 onwards.
[/showhide]