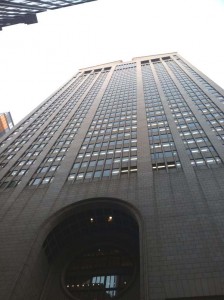 If you woke up this morning and guessed to yourself that Sony has one less headquarters and an extra $1.1 billion, you'd be correct. Sony has just announced the sales of they New York City headquarter (pictured on the right) to a group of investors led by Chetrit Group. Sony will use the billion and change to:
"undertake a range of initiatives to strengthen its financial foundation and business competitiveness and for future growth."
Of course simply selling a building does not equate to pocketing all that money. After paying involved fees and remaining debt related to the building, Sony will be able to cash in around $770 million. The transaction, which is expected to be completed by March, will see Sony lease the building for its Sony Music Entertainment, Sony/ATV Music Publishing and Sony Pictures Entertainment who currently reside there. According to Business Week, Sony shares surged 12 percent to 1,149 yen at the close of trading in Tokyo, the biggest gain since Oct. 14, 2008 after the announcement.

Sony, who has been suffering losses for the last few years, now holds far less cash than before. A move like this will help the once tech giant further fund its turnaround plan under new CEO, Kaz Hirai. During CES 2013, Sony announced the Xperia Z to much praise while taking on Samsung and other rivals with its growing line of XBR 4K televisions. Nicole Seligman, president of Sony Corp. of America, said in the statement:
"Given the opportunities and challenges in the current economic and real estate landscape, selling 550 Madison now is a timely and logical strategic move," "Regarding our new headquarters, we continue to look at a number of spaces in Manhattan but have not yet made a decision about where to lease."
For the year ending March 31, Sony is expected to post a $223 million profit which does not include sales of assets.
[Via Sony]