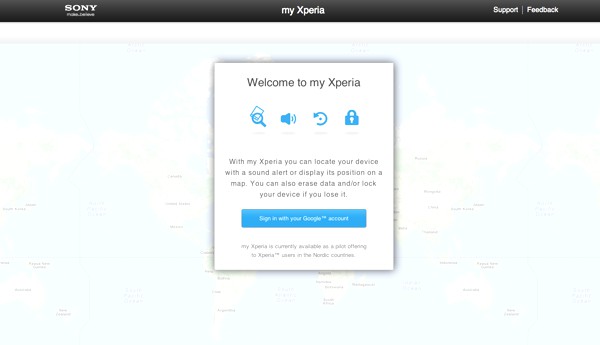 While rumored previously, Sony has officially announced my Xperia, a cloud based service for its line of Xperia smartphones that allows you to locate your smartphone via the web browser should you lose it or have it stolen. Sony is also continuing its awkward capitalization scheme on its devices where some words are capitalized and others are not like Xperia ion, Xperia S, and my Xperia. If the service sounds familiar, its because its quite similar to what Apple has offered with its Find My iPhone service (note the consistent and proper capitalization scheme), which allows you to do the same thing via web browser and iOS apps.
Besides allowing you to locate your Xperia phone, the free service also allows you to lock your device and remotely wipe it. The full list of features according to Sony include:
Locate your smartphone on a map
Sound an alert to get someone's attention – it'll also override silent mode and wake the display 
Lock the phone to keep info private, and ping a message with contact details or…
Erase both internal and external SD card info / data if required
Currently, my Xperia is limited to Nordic countries and only supports the Xperia acro S as its still a beta program. Eventually, the service will expand to all Android 4.0 and 2012 Xperia smartphones. Once Sony is satisfied, the service will expand to their newer phones like the Xperia Z and full worldwide support.
Discuss:
Do you find services like my Xperia useful?
[Via Sony]