PlayStation Plus has been on a lot of people's minds over the past month. In June, the service celebrated its 2-year-anniversary – and the first anniversary of the Instant Game Collection program – by offering a bevy of great games for subscribers. At E3, SCEA President Jack Tretton announced that PlayStation Plus would be coming to PS4 this holiday, and that it would be required for multiplayer games on the system. One caveat to the online requirement, however, is for free-to-play games–Sony is leaving it up to developers whether such games will be locked behind a pay wall. Needless to say, the future of PlayStation Plus is shaping up to be interesting. But for now, the present of PlayStation Plus is looking pretty good.
On Monday, Digital Platforms Community Manager Morgan Haro revealed the slate of games coming to North America's PlayStation Plus Instant Game Collection in July. Headlining the bunch is EA and DICE shooter Battlefield 3, in preparation for this fall's Battlefield 4. Also on PlayStation 3, users will be able to download Jet Set Radio and Oddworld: Munch's Oddysee HD, while PlayStation Vita owners will have access to Dokuro and the PSP/PS Vita title Metal Slug XX. Leaving the Instant Game Collection this month will be Deus Ex: Human Revolution (7/2), Joe Danger 2: The Movie (7/9), The Cave (7/16), Germinator (7/23), and Zero Escape: Virtue's Last Reward (7/30), so pick these up while you can.

In addition, Sony announced the Summer Blast sale coming to all PlayStation owners, with even better discounts for those with PlayStation Plus. Titles like Call of Duty: Black Ops II, Batman: Arkham Asylum, and Mortal Kombat are all heavily discounted this week, with more planned throughout the month. You can find more information about the Summer Blast Sale at the PlayStation Blog.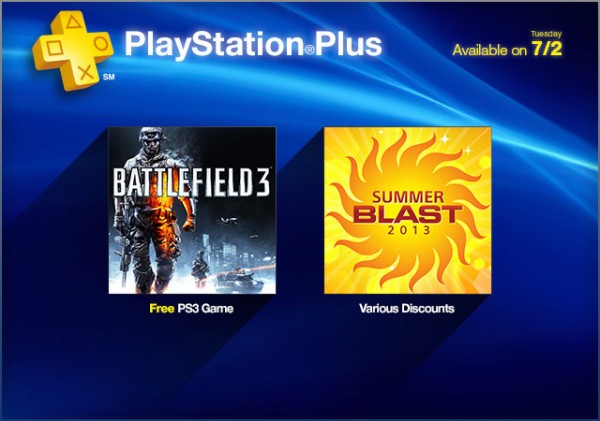 Oh, and if you want to see just how PlayStation's employees feel about their free offerings for subscribers compared to the new Xbox Live Games initiative, check out this great tweet from Brian Silva, SCEA Manager of Developer Relations.
Discuss:
What do you think of July's PlayStation Plus content? Which game are you most looking forward to? What do you want to see next month? Let us know in the comments.
[Via PlayStation Blog]