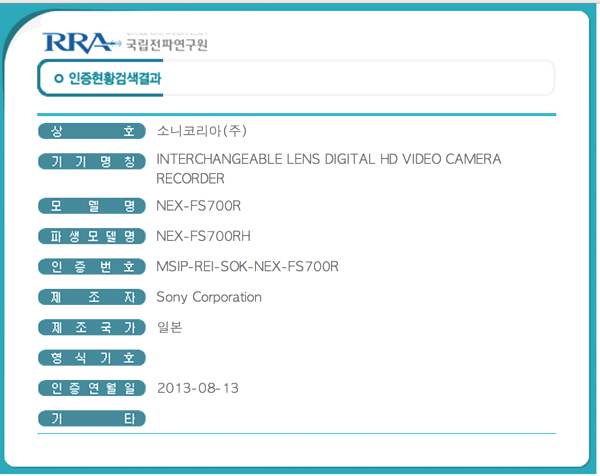 Thanks to the Taiwan's NCC Agency, we learned late last week that Sony would be soon announcing the NEX-5T. While not a lot of details are known about the camera, a registry like that points to a near future release. Not to be outdone, a Korean Agency has let it slip that Sony has just registered the NEX-FS700R and NEX-FS700RH. If those models sound familiar, that's because the NEX-FS700 is a current 4K camera from Sony that also happens to be priced far below the industry darling RED cameras. Like the NEX-5T, we have no details to go off of, other than the camera does exist and is likely being announced in the coming weeks. What we do know, however, is that, judging from their names, the two new models very carry over the 4K tradition with improvements and not a radical shift as the series model number has stayed the same.
But that's not all. As Sony has begun to take on RED with the NEX-FS700 series, they've also targeted the popular GoPro cameras with their own ActionCam. These small MP4 cameras are designed to be able to take a beating while also being affordable and are a popular choice on shows like Top Gear and for athletes who wish to capture their experience. The same Korean agency is reporting that Sony has also registered the ActionCam AS30V, a likely successor to the original ActionCam the company released last year. With leaks beginning to build it, we're expecting official announcements from Sony on the mentioned products in the coming weeks.
Discuss:
What do you want to see in the next generation Sony ActionCam?
[Via SonyAlphaRumors]