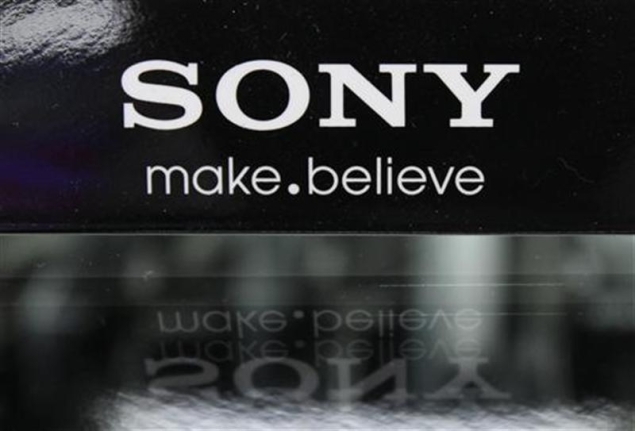 Xperia Z, Ultra, Z1, Z1 Mini, Tablet Z, PlayStation 4, more EISA awards for Bravia TVs, QX10/QX100 camera lenses, Smartwatch 2 – Sony is undoubtedly on the move this year as multiple investments reach a pinnacle in their cycle. Some of them, such as the PlayStation 4, represent a multi-billion dollar investment spanning several years that is only appearing above the horizon now as it prepares for major release. Economic, political and cultural events in the background may mean that 2013 is not only the year that Sony is back, but as Prime Minister Shinzo Abe says: "Japan is Back".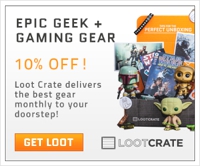 Corporate Renewal

Successful products and successful years are more than just about witty marketing, glossy products and glamorous launches with models. The Japanese firm is very different from what it was at the time of the iconic PlayStation 3 launch in 2006. Sony now spans eight segments as shown here in its financial report for its first quarter in 2013 (April-June). Imaging Products & Solutions, Game, Mobile Products & Communications, Home Entertainment & Sound, Devices, Pictures, Music, Financial Services compose its operations. Perhaps a medical segment will be created reflecting Sony's 2013 medical partnerships.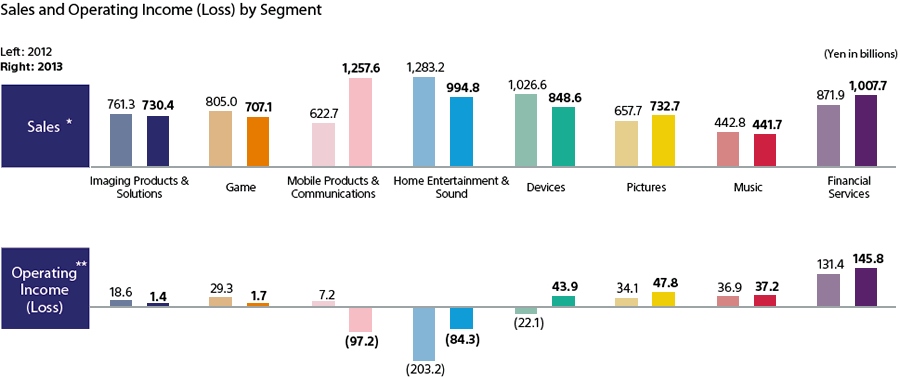 Note that from the figures above, we can see that the famous technology and electronics giant is profiting best from its financial services division, which it's operating in Japan only. This shows one of many good reasons why Sony is benefiting from diversifying it's operations into financial services, medical and beyond; when one or two segments suffer difficulties or rough transitions, the others keep the overall company afloat. Yet taking a look at the major product launches so far this year, clearly their electronics segment is still the focus.
But getting here Sony has had a number of difficult financial years. The company offloaded buildings in the US and Japan as well as selling stakes in companies (M3, DeNA Co.) within the past year. Few could say that the company isn't reorganising, restructuring, readjusting or realigning, the selling of stakes in companies that are no longer a priority in addition to the buildings effectively moved tied-up capital from one area to others that would benefit from investment.
One area that has taken time to improve but is now showing signs of hope is the TV division. After suffering eight years of losses, the chart below from an earnings announcement on August 1, illustrates the progress in balancing the books as it's expected to return to profitability this year, thus removing the biggest thorn in the company's side in terms of profitability. The TV division has been one of Kaz Hirai's key aims as CEO. With the Bravia TV line continuing to win industry awards, it's clear that their innovation efforts are successful and only the business side needed rectification; marketing, accounting etc. and now that's on-track too.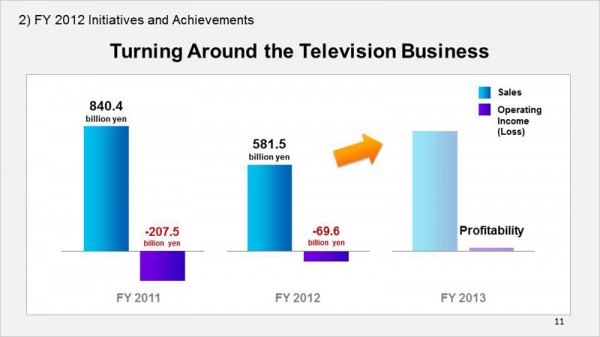 2013: A Year to Look Back On

The PlayStation 4 launch due this November is the release of numerous years of research and development (R&D), triggering a fresh generation of gaming and expanding it's audience further (no TV or sports). It's also a multi-billion risk. Positively, it's absolutely clear what consumers and media think about the PS4, the applause couldn't be louder and pre-order sales must be very encouraging to even to even a cautious finance officer. It's not yet time to celebrate but as pre-launches go, it's arguably as good as it gets. Interestingly, Sony has benefited from timely and well thought-out maneouvers related to it's main rival in this division, particularly using social media, in an unexpected bounty of positive reception for the company. Suddenly Sony has gone from being 'a good company' to 'a cool, slick company' again. Key here is that the Central Finance Officer (CFO) Masura Kato has made clear that the PS4 will not be a major loss-maker at launch like the PS3 which is a clear sign that Sony has learned from its PS3 launch, it will recoup it's investment relatively quickly. This is exactly what investors and the board of management wants to see.
The Xperia line of smartphones and tablets are now a shining beacon in the company's growth strategy, with the Mobile Products and Communications (MP&C) segment showing a 102% increase in sales and operating revenue between 2012 and 2013 (see the first chart). The major progress in this segment can be seen in Europe, where Sony has moved to fourth place in overall phone sales in Q2 13 (Apr-Jul), and number three in smartphone sales, behind only Apple and Samsung. This represents an 85% increase on 2012 and is fast approaching Apple in second position with a mere 9.6% estimated year-on-year rise in market share. It's a promising sign for Sony's ambition to break the top five global smartphone companies by market share. If the success of this years Xperia Z as well as the rest of it's Xperia range is any indication, it's only a matter of time before they do.
Sony made headlines earlier this year when it returned to profit overall as a group, beating earnings expectations with a $396.68m profit for the year April 2012-2013. As the company highlighted in its Q1 earnings report, favourable foreign exchange rates helped boost sales as the weak Yen makes exports cheaper. Below you can see how Sony's shares have fared out in this crucial year for the firm. Shares in December 2012 were trading on the NYSE (New York Stock Exchange) for about $10. As of today, they are trading close to $22 per share.
This represents approximately a 120% increase in the value of each share in only ten months. Notice the steady rise all year and peaks in February and June. That ties in nicely with the February surprise PlayStation 4 event in New York and the full reveal at E3 in LA. It seems the company's fate is more tied in with the PS4s success than any other product for now, though the first few months of the year would have been particularly buoyant thanks to the sales of the Xperia Z smartphone. This will please investors yet further improve if the November launch through the holidays goes to plan.
Help at Home
The economic devaluation of the Yen of course is broader than Sony, covering the entire Japanese corporate backdrop. But that doesn't mean that Sony can't take advantage of this, in fact it's a second wind. Prime Minister Shinzo Abe is credited with orchestrating economic policy to give major corporations a boost. Though this doesn't lessen the success that the company is enjoying now with its major products such as the Xperia Z and PlayStation 4 pre-launch, there is a million details that have been executed to achieve success through management, marketing, assets, innovation, accounting, production, human resources, leadership etc. But there appears to be a cultural stir in Japan presently, and it's heralded with the phrase 'Japan is back'. It's now the slogan of the ruling political party in Japan, strengthened after the country secured the 2020 Olympics in Tokyo – a national economic project in itself, costing billions of dollars, demanding many years of careful planning and construction. National pride is strengthening. Business leaders are flanking the Prime Minister as economic growth figures maintain momentum. 3.8% unemployment and falling, 3.2% average GDP in the two quarters of 2013 and an ambitious inflation target of 2%. As any sports fan knows, there is nothing like the support of the home crowd.
A Time to Shine

Larger corporations such as Sony are charged with the challenge of 'integrating divisions' and achieving 'synergies' to reap the benefits of cross-division connections and CEO Kaz Hirai has repeatedly addressed this with the 'One Sony' strategy. Hardware and software are starting to blend cohesively as PlayStation Mobile, Walkman, Triluminos, Bravia and other innovations are found in Sony's mobile devices. Music and Video Unlimited services also appear in the PS3 (surely the PS4 also) as well as in audio and mobile products. Imaging features like the new smartphone lenses bridge to the mobile division. The convergence point is clearly mobile and that is precisely where most growth and innovation lies. At a time when some rivals are lost or collapsing such as BlackBerry, HTC, Nokia or suffering an upper management collapse as with Microsoft (Xbox chief, Windows chief and CEO), Sony by contrast appears stable and recovering. New ventures, restoring profit in difficult segments, exceeding expectations in high-growth divisions and resuming overall profitability amidst a tough global economic environment reflects very positively for CEO Kaz Hirai and Sony itself.
Discuss:
Can Sony return to former dominance or is it past its glory years?