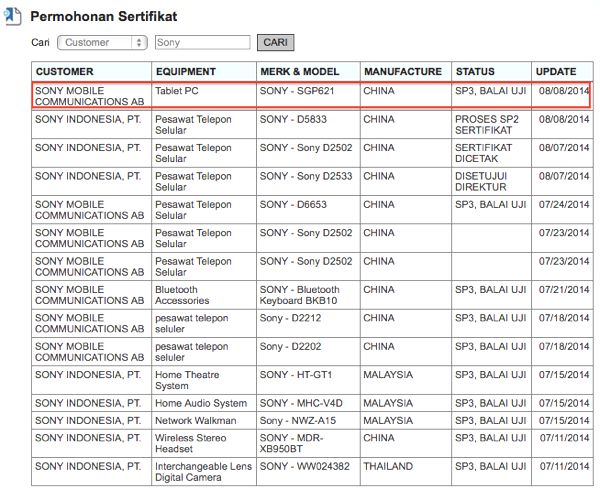 If the name scheming trend from Sony continues (and we don't have any reason to believe that it will be different), the successor the Xperia Z2 Tablet will likely be the Xperia Xperia Z3 Tablet. Unlike flagship smartphones from Sony which are released roughly every 6 months, Sony is taking a more traditional one year cycle with each tablet it brings to the market. This puts the most recent leak of a Sony SGP621 tablet in direct contrast with previous product cycles which saw the public unveiling of the Xperia Z2 Tablet in February. That is, unless this is a completely different type of tablet.
In order to be successful in the tablet market, big players like Apple and Samsung have targeted consumers who either want a near 10-inch tablet or a smaller 7-inch variant. Apple has famously seen a large uptick and preference for the iPad mini which brings everything the iPad (now iPad Air) has in a smaller, more portable form factor. Till now, Sony has exclusively catered to those who're looking for more entertainment out of tablet than portability (that is unless you consider the Tablet P). All of that could change with their next tablet reveal.
For some time, we've heard chatter that Sony has been looking at bringing a more portable tablet, around 8-inches to market. Thanks to the Indonesian Postel site (their version of the FCC), a Sony tablet SGP621 has been revealed. Beyond that, the only other piece of information we can decipher is that the tablet will also have LTE, thanks to the number 21 at the end. Previous Sony LTE tablets include the Xperia Z2 Tablet (SGP521) and Xperia Tablet Z (SGP321).
From here, we turn drastically towards speculation land but with the Xperia Z2 Tablet being only 6 months old, it's unlikely that a Xperia Z3 Tablet is already on its way. A more likely scenario is that a smaller, compact tablet could be on the horizon from Sony. If their smartphones are any indications, expect Sony to utilize the Compact branding which has traditionally featured everything its larger screen counterpart have to offer in a smaller form factor. So could this mean a Xperia Z2 Compact Tablet is on its way? Likely, though if true, that name is sure a mouthful.
Discuss:
Would you like to see a smaller Sony tablet?