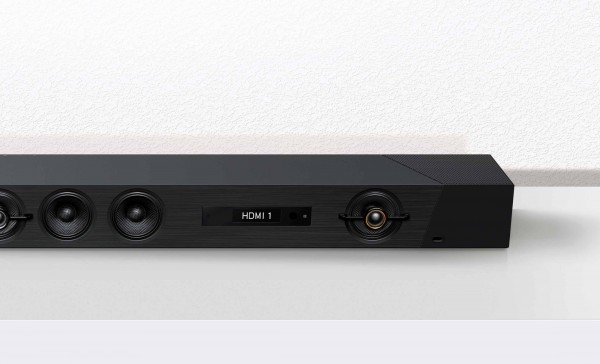 At CES 2016, the big question for Sony was why their fleet lacked supported for any initiative coming out of Dolby, namely Dolby Vision HDR in TVs and Dolby Atmos in their receives and sound bars. This year, Sony answered critics by unveiling the A1E OLED and X930/940E series with Dolby Vision HDR and the HT-ST5000 sound bar with Dolby Atmos support.
As I learned, with Dolby Atmos, we have a new way of looking at sound and to that point, the sound bar is a 7.1.2 system with the latter two numbers indicating sound that's coming from above. With a proper sound system and receiver, the .2 can actually be expanded to beyond that number and actual speakers would be placed in your ceiling where with a sound bar, that sound is simulated. In the case of the HT-ST5000, the impressive thing Sony has done is to put speakers on its end and have them fire off into the ceiling which will ultimately bounce back the sound.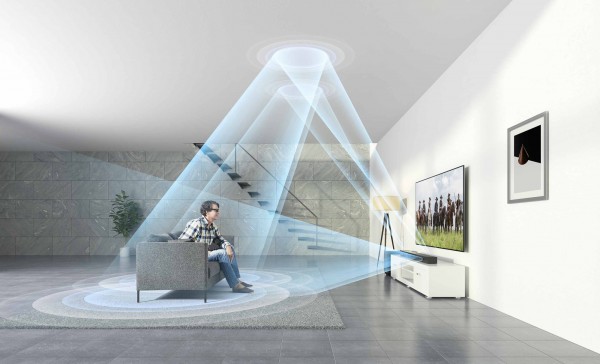 The new HT-ST5000 is Sony's new flagship 7.1.2ch 800W sound bar featuring Dolby Atmos®,, Hi-Res Audio and twelve advanced speakers—all in a sleek, stylish design. Each speaker unit utilizes separate drivers to reproduce a full range of sound that supports High-Resolution Audio playback. While a powerful addition to a television or projector all on its own, this sound bar is designed to be the cornerstone of a home theater setup. With three HDMI inputs, one HDMI ARC output, a USB input, Bluetooth, NFC, as well as digital optical and analog connections, there's a connection for all your equipment. The ST5000 maintains quality from source to screen with support for 4K and High Dynamic Range (HDR) content from major studios via HDMI HDCP 2.2.

The ST5000 supports multi-room capability also works with Google Home4, a voice-activated speaker powered by the Google Assistant. With Google Home, you can voice control your ST5000 sound bar to turn up the volume, skip to the next track, or stop the music –all without lifting a finger.
One interesting nugget I picked up during various conversations at CES 2017 regarding the Dolby Atmos equipped HT-ST5000 is that the directional sounds that come with it don't work if you have cathedral ceilings and require something flat in order for the sound to bounce off. Makes sense when you think about it but not something that immediately comes to mind.
There is however one weird caveat with the ST5000, which I'll get into in a more in depth piece in the future, which is its inability to do wireless surround sound, something the NT5, a more mid-range sound bar introduced at CES 2016, could. According to Sony, the reason is that Dolby Atmos accounts for sound differently, though I didn't directly understand why, but I'm willing to give that to Sony. However, seeing how a majority of content doesn't even support that audio format, why couldn't the ability to connect other rear speakers exist and be the default down to option for typical 5.1 surround sound movies?
Still, if you are looking to expand your sound, via the SongPal app, the sound bar can connect with other Sony speakers and play back the same content, great for expanding your music throughout the house. All that aside, the ST5000 is an impressive and beautiful looking sound bar that, though Sony wouldn't confirm it, is likely here to replace the ST9, their now two-year-old flagship.