With little fanfare prior, Sony has unveiled the a9, their latest, and easily greatest, full-frame camera. Now before I get too far, a word of caution: for those interested in only increased megapixel count, you'll walk away disappointed. Where the current a7R II offers a whopping 42.4-megapixels, the a9 instead fires every shot at 24.2-megapixels but that hardly tells the tale of this powerful camera.
Compared to its predecessors, the Sony a9 is 20% faster and is capable of shooting up to 241 RAW, full-frame images at 20 fps. Seriously let that set in for a minute. If that's not enough, how about that it's the first full-frame stacked CMOS sensor, which is why it's able to provide the speeds it does? It's also why Sony had to notch down the megapixel count. With an ultra-dense 693-point focal plane phase detection autofocus that can do 60 AF/AE tracking calculations per second, the a9 is a camera that's going to take crisp photos no matter the condition.
Some more info from Steve Dent at Engadget:
the new model is the first to use its full-frame stacked CMOS sensor, driven by an upgraded BIONZ processor. That allows the A9 to track "complex erratic motion with higher accuracy than ever before," Sony says. It also yields an ISO range from 100 to 51,200, expandable to 204,800 — not quite Alpha 7S II territory, but the A9 has double the megapixel count.

It's got a Quad-VGA, 3,686K dot OLED viewfinder, the highest resolution and brightest model Sony's ever used. It won't blackout during shooting, even at 20fps — that'll give you "all the benefits of an electronic viewfinder … that not even the finest optical viewfinders can match," Sony claims.
As mentioned, the touchscreen, something that's been sorely missed from the full-frame lineup, is now a focal point of the a9.
It's also the first full-frame Sony camera with a touchscreen that, like the A6500 APS-C model, allows for touch focusing. That'll be especially handy for videographers, letting them easily shift focus from one subject to another.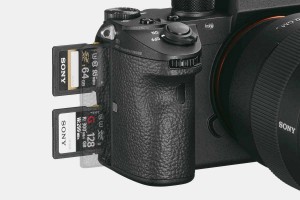 It's quite obvious that the a9 was built for professionals in mind and between the extended battery, dual media cart slots and 6K recording, you'd be hard pressed to not be impressed.
The A9 has a new, compact body with 5-axis image stabilization and a wired ethernet port for studio-based shooters. At the same time, it has over double the battery life (2.2 times) of previous full-frame A7 models and two media card slots, including support for high-speed UHS-II SD media in one of them.

For video, as you'd expect, the A9 supports 4K recording, but it reads out the entire full-frame sensor at 6K, and oversamples it to produce "high quality 4K footage with exceptional detail and depth." That's a step up from past Sony full-frame models, which only oversampled a smaller, Super-35mm chunk of the frame, though the A9 can do that, too. It can also shoot 1080p video at up to 120 fps with full autofocus tracking.
With all those pro leaning specs comes a pro leaning price with a $4,500 price tag for the US when it ships on May 25th and a €5,300 price for Europe when it arrives a tad later in June.
As Steve notes:
that's a lot, but comparable to competitors like the Nikon D5.
Earlier this week, I wrote that Sony just took over the number 2 spot in the US for full-frame cameras, passing Nikon. Is Canon next? Also, is the Sony a9 a camera you've been waiting for or is it too much overkill?