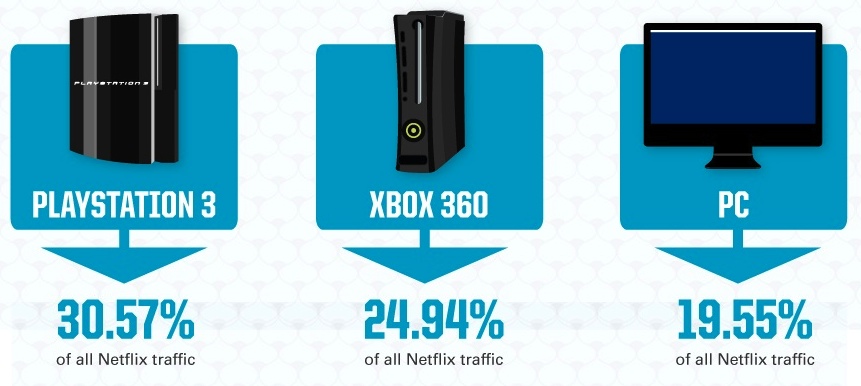 The PlayStation 3 has been a unique gaming console from the beginning. A machine with a dedicated hard drive no matter which version you bought, native Blu-ray playback, and an architecture that lends itself to improvement. Over time, PlayStation 3 users have seen vast enhancements and features added to their machine, from a revised PlayStation Store, to XMB access during games, to 3D playback, and a host of video services. Just over a week ago, Sony also added NFL Sunday Ticket to their ever-expanding lineup that now includes:
Netflix
Hulu Plus
Vudoo (2D and 3D movies)
MLB.TV
NHL Game Center
NFL Sunday Ticket
BBC iPlayer (Europe)
LoveFilms (Europe)
Qriocity Movies (Coming Soon)
Qriocity Music Unlimited
With so many options available on the PlayStation 3, Netflix continues to be the king. The company which was known for their red envelopes just a few years ago has now become synonymous with video streaming. Netflix, which is available on nearly every device out there, ranging from iPhones, to iPads, and even the Sony Dash, is enjoying success on every platform. However, one machine continues to lead the pack as the most-used and preferred device for Netflix streaming, and that is the PlayStation 3. Even though the PS3 has always held a higher price point than its Xbox and Nintendo counterparts and has a lower market share than either of the two mentioned gaming consoles, it continues to hold the lead with 30.57% Netflix users choosing the device as their playback method of choice while the Xbox 360 lands at 24.94% and the Nintendo Wii at 19.55%. With the PS3 recently
dropping to $249
and offering free online access while devices like the Xbox require a monthly fee on top of subscription pricing that is required from services like Netflix and Hulu, it is expected that the PS3 will continue to further its lead ahead of rival gaming consoles.
Discuss:
Do you prefer to watch Netflix on the PS3 or 360? Perhaps another device?