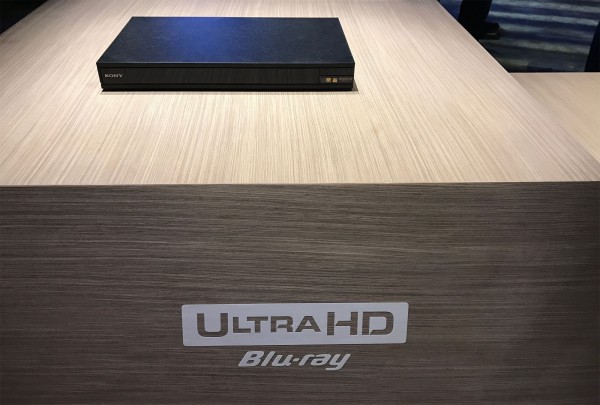 We've been getting a lot of pricing from Sony in the past week: for their 4K OLED TV, the A1E and their consumer flagship 4K HDR sets, the X930E and X940E. Now you can add to that list the X800 4K Blu-ray player, which was also announced at CES 2017.
As for a recap on what exactly the X800 offers:
Sony's first 4K Ultra HD Blu-ray player allows customers to experience the full breadth of what Sony's 4K ecosystem has to offer. The UBP-X800 Player is compatible with Ultra HD Blu-ray as well as video streaming in 4K resolution and High Dynamic Range (HDR), for greater detail, brightness and contrast that fully captures the movie, TV show, or game as it was meant to be seen and heard. The UBP-X800 provides Ultra HD Blu-ray playback with wide color space BT2020, it has twice the color range of existing conventional Blu-ray players and HDR (High Dynamic Range), and up to 100 times dynamic range to enjoy realistic picture quality like never before. The UBP-X800 is also a great match to Dolby Atmos® and DTS:X™ audio compatible receivers, for the most immersive home theater experience possible.
As for pricing:
Available for pre-sale today for a MSRP of $299.99 from Amazon, Best Buy and other authorized dealers nationwide. UBP-X800 4K Ultra HD Blu-ray Player will be available in stores in March 2017.
To help you get the most out of it, Sony Pictures is also throwing in two goodies.
As an exciting exclusive offer, now through June 30, 2017 purchasers of a UBP-X800 are eligible to receive two 4K Ultra HD discs from Sony Pictures Home Entertainment, including recently released titles such as Inferno and The Shallows, up to a $50 value.
In addition to 4K Blu-ray playback, like all Sony TVs since 2015, the X800 also offers Netflix 4K. To my surprise and delight frankly, unlike the X940E which is priced $500 to $1,000 more than my initial estimate, the X800 comes under my original guess which pegged the player launching at $399 or $499. What do you think of the pricing?
[Via Sony]