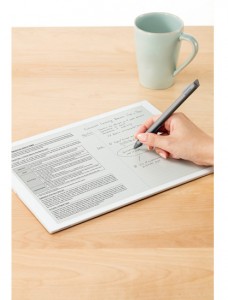 On the heels of unveiling the latest Digital Paper, a solution for professional who want to rid themselves of paper, Sony is also announcing a new joint venture. Via Yahoo! Finance:
Sony Semiconductor Solutions Corporation, a wholly-owned subsidiary of Japanese conglomerate Sony Corporation SNE recently announced a joint venture ("JV") with leading papermaking company E Ink Holdings (E Ink). Officially registered in Taiwan, this JV will focus on designing, manufacturing, selling, distributing and licensing products that use electronic paper displays.

Operations are expected to commence post regulatory approvals. The JV will integrate E Ink's development and manufacturing technology with Sony's product development and marketing expertise to create a new ePaper market. This will feature innovative electronic paper display products and systems.